Los Straitjackets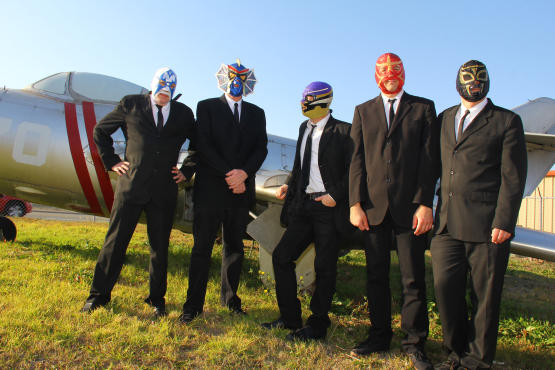 Los Straitjackets Photograph: Jorge Vargas
User ratings:
<strong>Rating: </strong>5/5
Rate this
Time Out says
Mon Oct 1 2012
Early in their two-decade career, Los Straitjackets devised some useful methods of standing out amid the horde of combos playing '60s-surf-inspired guitar instrumentals. Donning Mexican wrestling masks and black suits, and adopting a deadpan absurdist humor that's reflected in their goofy album art and pidgin-Spanish stage banter, they emerged as a formidable entertainment juggernaut and a popular touring act.
But the Straitjackets' visual and conceptual panache comes second to their reliably magnificent music, in which a surf-twang sound serves as the jumping-off point for an eclectic sensibility that incorporates R&B, country and exotica, along with a Latin vibe that's compatible with the band's South of the Border comedic frills. The just-released Jet Set largely resists the experimental urges of some recent Straitjackets releases, favoring the infectious, unpretentious tunes for which they're best known.
One by-product of wearing wrestling masks is that the group has handled personnel changes with minimal fuss. It's also smoothed over the temporary absence of founding guitarist Danny Amis, a.k.a. Daddy-O Grande, who's spent the past two years successfully battling multiple myeloma. Although Amis's dazzling interplay with fellow axman Eddie Angel has long been the Straitjackets' biggest selling point, the band has continued touring with an able sub in Greg Townson (of Rochester, New York's terrific Hi-Risers). Amis's recovery has progressed sufficiently to let him contribute to Jet Set, and he'll be making some guest appearances on the current tour, including at the Bell House show.—Scott Schinder
Share your thoughts