Mystery men
These mixtape hotshots courted online fame while ducking the limelight. Can they sustain the hype now that they're bona fide stars?
By Hank Shteamer Tue Oct 1 2013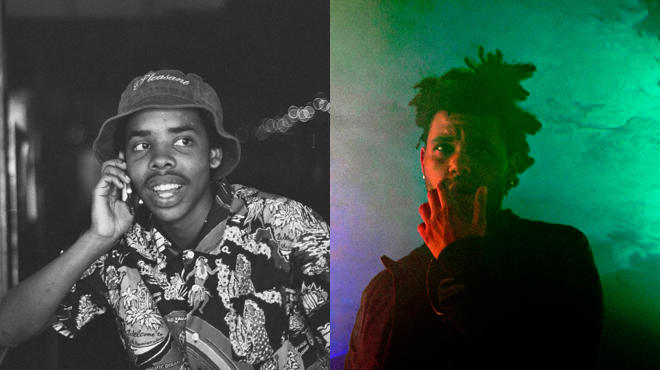 Earl Sweatshirt + The Weeknd
---

Earl Sweatshirt
The Weeknd

---

While Tyler, the Creator emerged as the poster boy for L.A. alt-hip-hop force Odd Future, it was Earl Sweatshirt—a drawly, gangly crony three years Tyler's junior—who seemed like the purest embodiment of the collective's insouciant genius. Just as Odd Future's stock was spiking, though, the teenager born Thebe Neruda Kgositsile seemed to vanish; almost instantly, he attained folk-hero status.



The way he was:

The tastemakers who hyped the Weeknd back in 2010 may not have known the identity of the artist behind it—later revealed to be Drake-affiliated Toronto twentysomething Abel Tesfaye. But they were right to praise the uncanny coherence of the project's sound world, which matched trippy downtempo art soul with accounts of drug-steeped debauchery. R&B had rarely sounded so sleek, or so seedy.




---

The story behind Kgositsile's absence was stranger than anyone could've imagined: Our protagonist was cloistered away in, yes, Samoa—at an academy for wayward youth. He's since reemerged to snap up what he had coming, including a swanky Columbia deal. Doris, the first proper Earl LP, came out in August, and it's a gem: a molasses-paced musing on the struggle between ambition and introspection.

And now?
After a whirlwind three years during which he self-released a trio of engrossing mixtapes, made a show-stealing cameo on Drake's smash hit Take Care and gave his first-ever interview, Tesfaye finally released his debut album, Kiss Land, last month. Here, for the first time, our narrator seems to reveal a conscience, addressing both the pitfalls and the pleasures of his epic-scale hedonism.


---

"Grandma's passing / But I'm too busy trying to get this fuckin' album cracking to see her / So I apologize in advance if anything should happen / And my priorities fucked up, I know it / I'm afraid I'm gonna blow it"—"Burgandy"

"I lay my head on a thousand beds / It's been a test to see how far a man can go without himself / I think I lost the only piece that held it all in place / Now my madness is the only love I let myself embrace"—"Adaptation"

---

Earl Sweatshirt plays Bowery Ballroom Mon 7.
The Weeknd plays Radio City Music Hall Mon 7 and Tue 8.

---
You might also like
---
Live music calendar for New York City
Harlem's roving monthly dance party and artisan ma...

The Met is back on the plaza at Lincoln Center thi...

A welcome tradition of relatively recent vintage, ...
22

more events »
Time Out videos
---
---
@TimeOutNewYork
Subscribe to Time Out New York on Spotify for playlists and recommendations from our Music team.


Check out New York's best restaurants, hottest street style, cool apartments and more.