NYC Rock 2011: The top 25 New York City bands
Hear and now: TONY ranks the city's best rock groups.
By Sophie Harris, Marley Lynch, Hank Shteamer, Steve Smith and Sharon Steel Mon Oct 17 2011
The Wild Cards
Even after the fighting stopped, truces were declared and the dust settled, each of our NYC Rock 2011 panelists retained a single band that didn't make the cut, but arguably could have. That five bands this diverse each could muster someone's devout advocacy speaks to the scene's vitality and breadth.
Japanther
Why does Japanther deserve to sneak onto this list? Because art rock is so often synonymous with mimsiness, feyness, outlandish stage attire or expressive yelping, whereas the NYC duo—formed at Brooklyn's Pratt Institute—is a straight-up punk band, whose shows transform the humblest of venues into noise-drenched sweat-o-dromes. That said, drummer Ian Vanek and bassist Matt Reilly also pull off some pleasingly weird shit, from collaborating with Portland puppet collective Night Shades to teaming up with synchronized-swimming team Aquadoom. To which we say, why the hell not?—Sophie Harris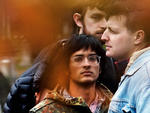 Yeasayer
Yeasayer's music evokes a neighborhood like Woodside, Queens: quintessentially New York, but seamlessly incorporating a culture and history from abroad. Indeed, as torchbearers of Brooklyn's indie-rock scene, their songs undeniably fit in with the borough's many up-and-coming hipster rock bands, but also contain a sound native to the Middle East and Africa. Though undeniably catchy, Yeasayer's eclectic tribal dance-party music has always been viewed as less approachable than, say, MGMT's early pop anthems. But the art-pop trio records and plays with the ambition and resolution that is necessary to make it in this city's dog-eat-dog music scene.—Marley Lynch
Zs
A Venn diagram based on Zs would show circles overlapping from contemporary classical music (drummer Ian Antonio's new-music group Yarn/Wire), punk (guitarist Ben Greenberg's raucous Pygmy Shrews) and hip-hop (saxophonist Sam Hillmer's day gig mentoring Brooklyn high-schoolers who aspire to be rappers). Not so much a band as a ready-made scene, Zs has birthed several local concert series and a record label, and spawned high-profile satellite groups (Extra Life, for one) during its decade-long run. Its mission has been to obliterate the distinction between art music and DIY culture, and as successful as it has been behind the scenes, the band's real achievement is on record. Check the new EP 33 to hear the trio's latest audio objects, impossible to categorize yet as structurally sound as great pop songs.—Hank Shteamer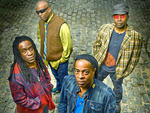 Living Colour
Not just a great black rock band—though as such, critical to NYC rock history—Living Colour is simply a great rock band, period. How guitarist Vernon Reid's avant-jazzbo background plus vocalist Corey Glover's sanctified-soul delivery managed to spawn one of the biggest hits of the MTV era, "Cult of Personality," remains something of a mystery. With bassist Muzz Skillings (later replaced by Sugar Hill Records house bassist Doug Wimbish) and powerhouse drummer Will Calhoun, Living Colour vaulted from CBGB's gigs to an opening slot on the Rolling Stones' Steel Wheels enormodome tour. The band split in 1995, reformed at the end of 2000, and proved most recently with 2009's fierce The Chair in the Door that it still has plenty of fire in the engine room. And even now, onstage Living Colour has few rivals.—Steve Smith
The Drums
This Brooklyn-based trio has received an excess of affection from fans in England over the last couple of years; not unlike the Strokes, the Drums have perfected a look (mop-headed mods) and a sound (tingly new wave revival) that is endlessly appealing to trendy Londoners. The band is definitely full of a certain aesthetic, but they aren't just some stylish fad—the Drums belong to New York City, and their grim pop songs about suicide and wasting your youth away do, too.—Sharon Steel
---