Pavement
The iconic indie band thaws out-is this a good thing?
By Jay Ruttenberg Thu Sep 9 2010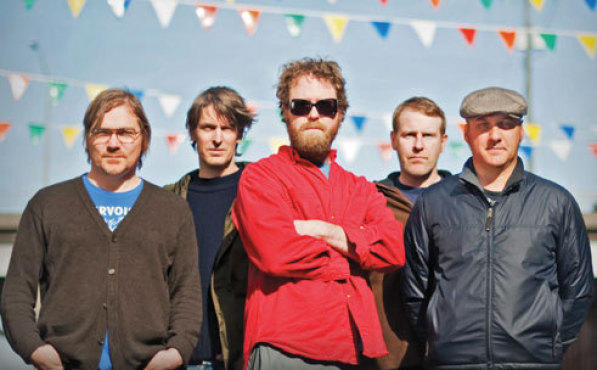 CRYPT-KICKER FIVE Stephen Malkmus, second from left, brings Pavement back from the beyond. Photograph: Tarina Westlund
In the final weeks of 2000—a year after Pavement dissolved, a decade before it reunited—Stephen Malkmus and I sat on the floor of a dilapidated Queens tennis club, following an abbreviated set. (We tied.) Malkmus seemed eager to be free of a band that had started with such mystery and ambition only to peter out, ten years later, as an insipid group of hard-touring "product pushers." Moreover, as he launched his solo career, a promising new era of indie-rock was dawning. "These days, an arty band can play three nights at Bowery Ballroom," the singer marveled, speaking for a Time Out New York profile. "In the early '90s, it was big if you could play one at Maxwell's."
If only he knew what was to come! In the ensuing decade, the colossal Generation Y, reared in Clinton prosperity, would come of age, creating an upper-middle-class consumer army: indie-rock fans. The Internet would render obscure niches of music, once the province of hardened enthusiasts, available to all at the click of a mouse; rock festivals blossomed, exposing vacationing hordes to a range of sounds. As major labels lost their grip on America's ears, bands like Arcade Fire and Vampire Weekend found comfort atop the Billboard charts. To paraphrase Malkmus, these days, an arty band can play three nights at Madison Square Garden. Or, in the case of Pavement, which brings its seemingly endless reunion tour to New York this week, four nights in Central Park.
Pavement's worth is mammoth. It debuted with two distinct masterpieces—1992's Slanted and Enchanted and 1994's Crooked Rain, Crooked Rain—along with Westing (By Musket and Sextant), an astonishing collection of earlier singles and EPs. In its formative years, the group was the most popular, most acclaimed, most enigmatic act in indie-rock, then a submerged genre that stood aloof from the tacky alternative-rock that dominated press and radio alike. From an accountant's perspective, the band's return to play indie-rock's enlarged new stage is a no-brainer. When tickets to its first Central Park concert went on sale last fall, they vanished within two minutes. Who, placed in Pavement's ten shoes, could resist? This recession is no picnic.
Yet for those who view rock music as something grander than entertainment, Pavement's return is demoralizing—a textbook example of a band beginning life as art and returning as commerce. In the past few years the reunion tour has become the hokiest trend plaguing rock; active again are bands whose members are known to loathe one another, who nobody realized broke up in the first place or whose members are mostly deceased. As in the '90s, the most influential band may be the Pixies, disinterred in 2004—only now, the musicians are admired not for their melodic prowess, but for their entrepreneurial shrewdness. They play to cheering masses inside an artistic void.
Beyond monetary gain, there is no discernible reason for Pavement to regroup. The band concluded its initial run with no unfinished business and a secure legacy. It notoriously dazzled on record and underwhelmed onstage, yet its current run extends to lucrative live dates, not recordings. And while the most worthwhile reunions hinge on strong individual artists bumping brains—most triumphantly the Go-Betweens—Pavement has always been a benevolent dictatorship. No member could ever challenge Malkmus's supremacy, because the band's greatest moments arguably occurred without the band. The Pavement known to stages and publicity stills was essentially fabricated to put faces on the wild sounds emanating from those initial slabs of vinyl; on Pavement's tour de force, Crooked Rain, Malkmus handled virtually everything besides drums. At its apex, the touring Pavement was something of a ruse.
So why do people flock to see the regrouped Pavement but not Stephen Malkmus's solo band? For the same reason that the singer branded Pavement all those years ago: As audiences, we like the fantasy of camaraderie and collective worth implied by a band. It's the male equivalent of Sex in the City, the bookish version of the New York Yankees. When these bands reach up from their graves, like movie zombies wielding guitars, our knee-jerk reaction is to clutch their hands as if they possess some living past. This is, after all, the nostalgia inherent to all pop, from the sappiest balladeer to the most nihilistic punk. It promises eternal beauty and hope, friendship and youth. It is a ravishing illusion.
Pavement plays the Williamsburg Waterfront Sun 19 and Central Park's Rumsey Playfield Tue 21--Sept 24.
Buy music by Pavement on iTunes
Read more: Stephen Malkmus interview, 2001
See more recommended shows