Review: Darcy James Argue's Secret Society
By David R. Adler Thu May 7 2009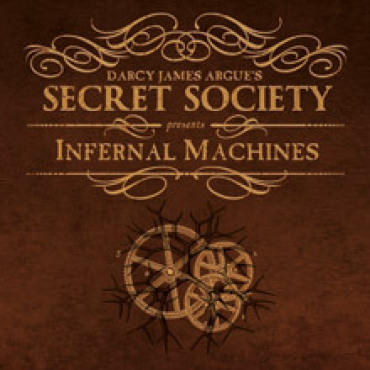 Time Out Ratings
<strong>Rating: </strong>5/5
Vancouver composer Darcy James Argue came to New York via Boston and launched what he calls a "steampunk big band," Secret Society, in which he does not play an instrument. The name is both a riff on the insularity of jazz and a deconstruction of that very notion, furthering Argue's belief that big bands can and should mate with other musical idioms to produce all sorts of bastard children. (Along the same lines, Argue's blog—at secretsociety.typepad.com —marries digital-age punditry to the timeworn model of the artist-as-critic.)
After several years of gigging, Argue has now debuted on record with the fan-funded Infernal Machines, a seven-track marvel of imagination. There's a dark and forbidding quality to the music, even as it pulses with rock energy, imbued with a harmonic sophistication that places Argue in the lineage of Bob Brookmeyer, Maria Schneider and other large-ensemble modernists. The marvelous brass-and-reeds colorations—staccato stabs in "Zeno," strange legato cloudbursts in "Phobos" and "Obsidian Flow"—coexist with Sebastian Noelle's guitar atmospherics to create overlapping sonic worlds.
Argue encourages his soloists (including trumpeter Ingrid Jensen, alto saxophonist Erica vonKleist and tenor saxophonist Mark Small) to shine. But their flights are more about compositional development than individual display, a point underlined by the sax-trombone dialogue of Sam Sadigursky and Mike Fahie on "Jacobin Club." James Hirschfeld's lonely trombone wail heightens the desolation of "Habeas Corpus," a protest piece that's as timely today as ever.
Darcy James Argue's Secret Society plays Undiscovered Islands at Galapagos Fri 8.
Buy Infernal Machines on iTunes
Infernal Machines (New Amsterdam)