Review: Joanna Newsom
By Sophie Harris Mon Feb 15 2010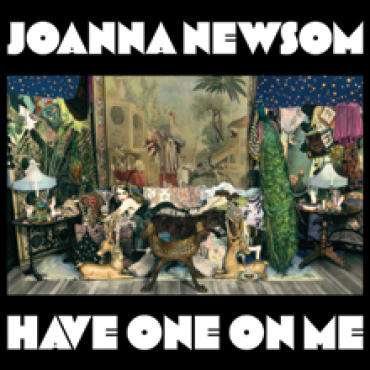 Time Out Ratings :
<strong>Rating: </strong>4/5
It's funny—ever since the success of Joanna Newsom's previous album, Ys, no one really knew what the onetime freak-folk icon was doing musically. We knew from the gossip mags she was dating SNL funnyman Andy Samberg and that she'd become a fashion muse—but musically, nope. So the news this past month that she was poised to release a triple album was delightful and disorienting; it was the musical equivalent of "I'm pregnant! Due next week! And it's triplets!" A whole lotta Newsom, by anyone's standards—and yet it's a pretty breezy ride.
Have One on Me is the closest thing Newsom's made to a pop record, in places recalling the sweet, piano-driven songs of Joni Mitchell; the three-part harmonies that waft through "Good Intentions Paving Company" are a ringer for Mitchell's "Carey." Romantic, too: "Sometimes I am so in love with you," Newsom coos on "California," her voice newly soft and subtle, "like a little clock that trembles on the edge of the hour."
The set is full of oppositions. A hello-goodbye album, it starts with a giddy sense of newness that gradually slows and clouds into an exploration of lost love. The album's early songs teem with life (gardens, insects, babies); the softer, somber songs that end it ponder older questions: "In this life, who did you love?"
And yes, it is hard to keep focused for the full two hours. But given that you're the master of your own stereo, would you really be grinch enough to grumble? Newsom's offer is laid out plain: Have one on me.
Joanna Newsom plays the Town Hall Mar 18.
Have One on Me (Drag City)