Review: The Strokes
Despite behind-the-scenes drama, the Strokes sound newly energized on their fourth LP.
By Hank Shteamer Mon Mar 28 2011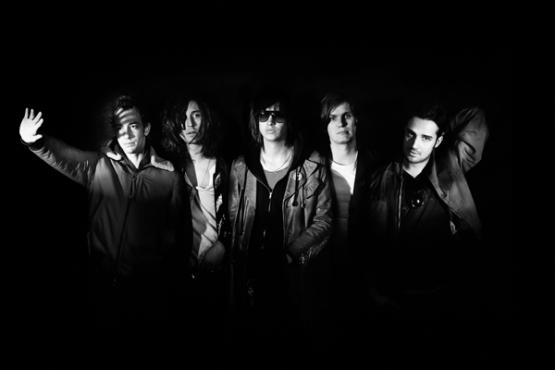 THE SHADOWS KNOW The Strokes face the glare of the limelight with a subtle yet satisfying fourth LP. Photograph: Courtesy of RCA Records
Time Out Ratings :
<strong>Rating: </strong>4/5
By now, you've probably read that the Strokes' fourth LP is a product of their drama-filled middle age—a White Album--esque phase marked by catty in-quarreling, newfound sobriety, demanding family lives, uneven solo projects, megalucrative festival gigs and other such impediments to efficient rock-making. But what the Behind the Music--ready press narrative doesn't tell you is that the band has never sounded more committed to its deceptively linear craft than it does on Angles. The ten-song set isn't nearly as immediate as the band's still-incandescent 2001 debut, Is This It—nor, thankfully, is it as meandering as its 2006 predecessor, First Impressions of Earth—but give it some time and the details really shine.
Take for example guitarist Nick Valensi's solo on "Life Is Simple in the Moonlight," a notey creation that points more toward Steely Dan--style luxuriousness than the garagey chic too often invoked as the Strokes' sole area of expertise. Or consider drummer Fab Moretti's cramped, jackhammer rolls on the chorus of "Gratisfaction," a rare yet effective departure from his bare-bones beat marshaling. When all the band members indulge their maximalist impulses at once—as on lead single "Under Cover of Darkness," with its fleet guitar and bass orchestration and triumphant high-register wailing from frontman Julian Casablancas—the results are weird and euphoric: geeky virtuosity redeployed in the service of '60s-style jangle. The hurtling, shred-filled postchorus jams on "Two Kinds of Happiness" leave behind any lingering hints of slackerdom: The greasy hair and blank expressions may remain, but when the 2011-model Strokes get the urge, they can grandstand with the best of them.
Angles' energy dips frustratingly on two electropoppy detours, "You're So Right" and "Games," both of which recall the sci-fi sheen of Casablancas's 2009 solo debut, Phrazes for the Young, but fail to match the insistent catchiness of that record's best songs. Overall, though, the Strokes' latest rewards a fan's patience with tracks that sound at once retro and futuristic, familiar and face-lifted. Don't let the drama distract you: This quintet may be a model of dysfunction, but Angles finds them jelling mightily.
The Strokes play Madison Square Garden Fri 1. Go here to read our interview with Strokes bassist Nikolai Fraiture.

Ten years of the Strokes
2001
Is This It
At the time, the band's debauched-rich-kid image seemed cloying; a decade later, the songs are undeniable.
2003
Room on Fire
Less focused than the debut, the Strokes' sophomore set mingled duds ("Meet Me in the Bathroom") with triumphs ("Under Control").
2006
First Impressions of Earth
Admirably adventurous but a chore to sit through, Strokes LP No. 3 didn't bode well for the band's longevity.
Yours to Keep
Guitarist Albert Hammond Jr.'s first album under his own name often registered as classic Strokes with a less-distinctive frontman.
2008
Little Joy
The self-titled debut by drummer Fab Moretti's other band sounded exactly like a pop side project is supposed to sound: breezy and charmingly chill.
Cmo Te Llama?
By the time of Hammond's vintagey second record, the six-stringer had grown more comfortable in the driver's seat.
2009
Time of the Assassins
This solo effort from bassist Nikolai Fraiture—billed as Nickel Eye—played like a sullen placeholder.
Phrazes for the Young
Julian Casablancas's synth-fueld solo debut was an intermittently magical lark.