Rhys Chatham
Sans monumental scale, the veteran NYC experimentalist presents his latest work.
By Jordan N. Mamone Mon Oct 11 2010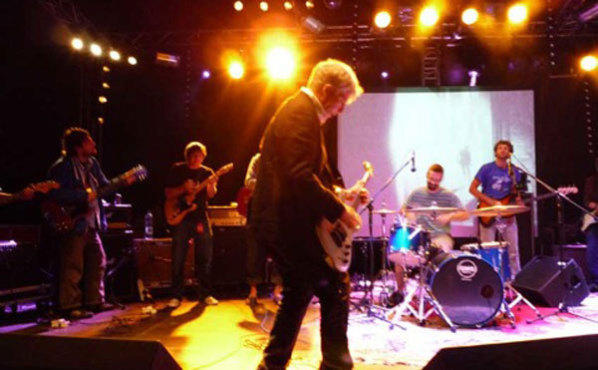 The Kitchen; Fri 15, Sat 16
Leave it to experimental modernist Rhys Chatham to defy an audience's preconceptions. In August 2009, a reported 10,000 people crowded into Damrosch Park to witness A Crimson Grail, his gorgeous piece for 200 electric guitars, 16 bassists and a percussionist. Part of Lincoln Center's Out of Doors series, the project, with its rows of amplifiers glinting in the setting sun, could have easily amounted to a bombastic spectacle—even the composer's smaller-scale affairs tend toward ear-killing excess. His largest American undertaking, however, was a surprising exercise in restraint.
In late-'70s Manhattan, Chatham helped introduce the fury of punk and No Wave to the rich overtones of the postminimalist avant-garde. Despite its imposing scope, A Crimson Grail emphasized the second half of that equation: A flutter of pastoral sound rises slowly, then ping-pongs around the room to the ticking of a lonely hi-hat cymbal. Now and again, dramatic swells mimic jet-propelled hummingbirds, but subdued reverence usually eclipses swarming ecstasy. Recently released on CD by Nonesuch, the New York performance of the work handily bests a previous CD version taped in 2005, at Sacr-Coeur basilica in Paris.
This weekend, a trumpet-toting Chatham will return to the Kitchen, where he served as founding music director. Media artist Angie Eng, noise-rock bassist David Wm. Sims (of the Jesus Lizard, Rapeman and Scratch Acid) and improvisational drummer Kevin Shea (from Talibam! and Storm & Stress) will back him up. What to expect is, naturally, anybody's guess.