Rizzle Kicks courts stateside fame
An irresistible British hip-hop do finally arrives on American shores, with a big NYC concert this week
By Sophie Harris Mon Jan 21 2013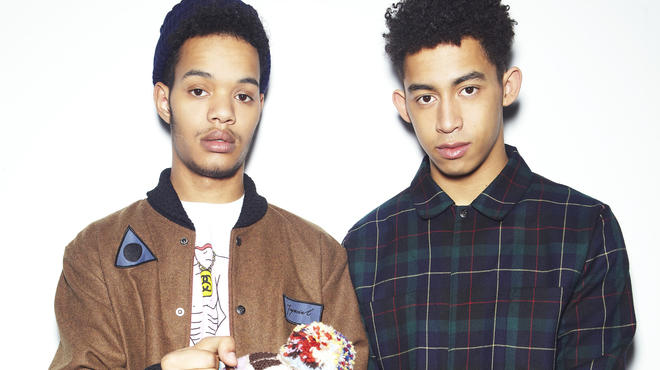 Rizzle Kicks Photograph: Tom Oxley
It would take a hard heart to resist U.K. hip-hop duo Rizzle Kicks. The name is ridiculous, yes, but given the playful, snappy quality of the music, it's also A-plus perfect. These dewy-faced whippersnappers met at the BRIT School (which also spawned Adele, Amy Winehouse and Leona Lewis), and over the past couple of years, they've scored a platinum-selling debut album and shifted more than a million singles.
That's thanks largely to the track "Mama Do the Hump," which mashes up the guitar riff from a cover of Bo Diddley's "Mona" with a squidgy beat courtesy of Fatboy Slim mastermind Norman Cook. There's some tasty British slang here, too—this is what kids chatting at a bus stop in London sound like—and the accompanying video, shot in the family kitchen, features Jordan "Rizzle" Stephens's mum miming along to the rapping. Needless to say, the video sparked its own U.K. dance craze.
And sure, they're not at "Gangnam" levels of Internet ubiquity just yet (we're still getting over the news that some poor guy died trying to do the Gangnam dance at an office party), but the boys seem unworried—by anything, in fact. And this is part of Rizzle Kicks' attraction: They make fun, generous music that's as appealing to a smartphone-wielding (or stealing) teen as it is to straitlaced grown-ups like Stephen Fry, an avowed fan. Catch 'em on the rise, opening for fellow British hotshot Ed Sheeran.
Rizzle Kicks play Radio City Music Hall Wed 30.
Share your thoughts