Russell Simmons
The godfather of hip-hop shares his yogic wisdom.
By Kate Lowenstein Thu Apr 12 2007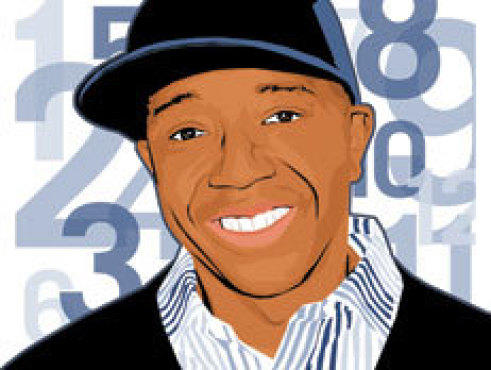 Illustration: Rob Kelly
If you heard your first hip-hop track in the early '80s, chances are Russell Simmons had something to do with it. In 1984, his record label, Def Jam, which he cofounded with Rick Rubin, started popping out hit albums of the nascent art form by the likes of the Beastie Boys and LL Cool J. Recently divorced from model Kimora Lee, Simmons has now sold his multimillion-dollar interests in Def Jam and clothing empire Phat Farm (which he launched in 1992). But the 49-year-old Hollis, Queens, native isn't coasting. He heads up the Rush Philanthropic Arts Center, cochairs the Hip-Hop Summit Action Network and fights for animal rights alongside PETA. His latest project is a new book, Do You!, in which he tells wanna-bes how to get Simmons-successful in 12 easy steps. The amiable and incredibly Zen entrepreneur chatted up TONY from his desk at the Rush office.
Your book is based on yogic principles—not the first thing we'd expect from a hip-hop mogul. How did you get involved in the practice?
About 11 or 12 years ago, my friend Bobby Shriver—who's now the mayor of Santa Monica—took me to Steve Ross's yoga class. It was loud rap music and a bunch of actresses and models.
Was it the hot women that got you hooked?
Well, that was the best part. I got addicted. But where I go now—Jivamukti—there's a very serious investment in the scripture and the science of yoga.
Do you adhere to all of it?
I try. The yamas are like the Ten Commandments: There's ahimsa, nonharming—the reason I don't eat any animal products; satya, nonlying; asteya, nonstealing; brahmacharya, control of sexual urges; and aparigraha, nongreed.
Is yoga very hip-hop? I can't picture Jay-Z doing a downward-facing dog.
The hip-hop community practices yoga every day. You don't have to be in an asana to be a yogi. Jay-Z is a good, giving person....
You're involved in quite a number of philanthropic projects yourself. How do you pick your battles?
Here's the thing: What are my resources? How can I best optimize them? Thousands of kids hear me speak at black colleges. My core community seems to be interested in world peace. At the Foundation for Ethnic Understanding, we're working on creating dialogue between all ethnicities. When public figures fight, it creates conflicts among all the people. What we need instead is private dialogue.
Public fighting seems to happen a lot in hip-hop.
The poets are an example of our negative reality sometimes; they remind you how sexist we are, how racist, how homophobic, how violent. But do you think gangster rappers are nearly as gangster as George Bush? That their expression of sexism is more sexist than the clerics or the Christian preachers?
So they're holding a mirror to society.
Yes, and we can't stand it. So we blame the rappers instead of ourselves.
You're incredibly approachable for such a rabid businessman. Are you as nice as you sound?
[Laughs] Well, I'd better be approachable. Everyone is so flattering to people who have toys anyway. I get out of a Maybach and the guy says, "Hi, Mr. Simmons, how are you, sir?" Why the fuck I got to be sir? People give additional props—they let me in the Waverly Inn, where no one can get a table. But I know for sure that I don't deserve a seat any more than anybody else. It's a funny thing: We revere the lucky ones, not the people who are suffering, who are really working.
You and Kimora announced your split last year. How is single life?
You learn to be comfortable with it. I think I'm a better father. We're great friends; I talked to her right before you called.
Do you have a newfound fondness for women in yoga gear?
[Pauses] The practice says to keep your mind on yourself, your mat and God, but sometimes it's me, my mat, God—and the girl behind me.
Do You! comes out Apr 24. Simmons will sign books at Borders (100 Broadway at Wall St, 212-964-1988) Apr 24 1--3pm.
Write your own review