Shudder to Think
By Hank Shteamer Tue Sep 30 2008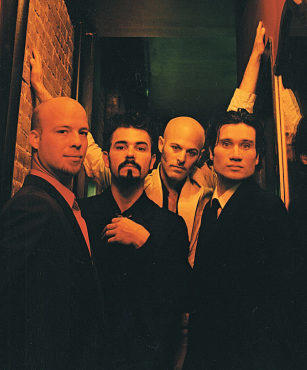 Photograph: Courtesy Kid Logic
Webster Hall; Sat 4
The grunge era can seem overearnest from a distance, but all told, it was a stellar time for mainstream rock. When else would you have seen a band as staunchly eccentric as Shudder to Think on MTV? A product of D.C.'s fertile punk scene, the group retained every ounce of its essential oddness on its major-label debut, 1994's Pony Express Record, which combined prog's brainy rhythms with metallic crunch and glam style. Frontman Craig Wedren—creepily alluring and brashly effeminate—tied the mix together, belting out asymmetrical hooks that nevertheless locked into the brain.
After Pony Express Record, the buzz subsided. In the late '90s, Shudder to Think released the more-conventional 50,000 B.C. and appeared on a series of soundtracks, such as Velvet Goldmine, where it served up a spot-on imitation of Bowie-esque histrionics. Since then, Wedren has issued a refined indie-pop disc under his own name and scored a variety of projects, including the comic romp Wet Hot American Summer, to which he contributed hilarious arena-rock facsimiles.
Meanwhile, Shudder to Think's back catalog has attracted a sizable cult following of fellow musicians and other left-field-rock devotees. In that sense, this tour, focused exclusively on old material, is a chance for the 2008 band—Wedren, debonair guitarist Nathan Larson and 50,000 B.C.–era drummer Kevin March, plus guitarist Mark Watrous and seasoned avant-rock bassist Jesse Krakow—to acquaint itself with a devoted fan base it never got the chance to meet the first time around.