Singled out
Stephen Malkmus may be king of the slackers, but his post-Pavement solo debut-like his tennis serve-shows greater aim
By Jay Ruttenberg Thu Feb 15 2001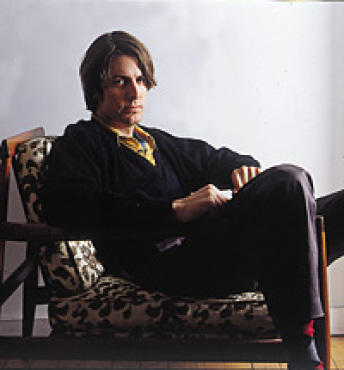 Photograph by BJ Formento
Stephen Malkmus has never looked entirely appropriate on a rock club's stage. Whether playing with his new backup band, the Jicks, or the group he recently disbanded, Pavement, the musician's mien has always seemed more Dead Poets Society than Almost Famous. Peering at his well-heeled admirers through science-teacher glasses, the Gumby-framed guitarist appears to have taken a wrong turn somewhere between college and grad school.
Conversely, the Long Island City Indoor Tennis facility—a dilapidated warehouse nestled inside an old factory in Queens—seems more fit for a rock concert than a proper singles match. That dichotomy makes it an appropriate venue for a round of tennis with Malkmus, who stands on the opposite side of the court, arms raised mock-victoriously after drilling a forehand past his opponent (and interviewer), to take a one-game lead. "I grew up in a really athletic Californian family," the 34-year-old says later. "I was ranked number two on my high-school tennis team, although it was a pretty shitty team."
Malkmus speaks through his skater bangs in the wishy-washy tone that pervades his music—from the earliest Pavement singles to his new self-titled debut. While his songs never reach the space-cadet levels of which he's personally capable (on the subway, he sits, eyes shut and head down, humming), they indubitably come brimming with a cocky flakiness. He has the disposition of the straight-A student who never admits to studying. Or, perhaps, the tennis player who warms up tepidly, then unleashes during a match—never dampening the armpits of his baby-blue polo shirt.
It was Malkmus's wry attitude that placed Pavement at the epicenter of 1990s college rock. Many bands aped his phlegmatic vocals and askew guitar; more copied his smirk (although he lets out nary a grimace on the tennis court, even when his adversary double-faults). Born more than a decade ago as a noisy basement enigma, Pavement peaked in the early '90s, simultaneous with an alt-rock movement from which it always held itself aloft. And while such a stance was initially supported by its music, Pavement in its final stretch had become a tamed crew of Lollapalooza veterans, going through the motions of what Malkmus calls "grueling, product-pushing tours." Rather than continue on that road, Malkmus rallied new troops. "I was just like, I've got to facilitate the art," Malkmus says with a shrug. "Is it going to happen through Pavement? I didn't think so."
Joining Malkmus in the fledgling Jicks are two Portland, Oregon, little-knowns, bassist Joanna Bolm and drummer John Moen; the band sometimes includes vocalist Heather Larimer, who happens to be Malkmus's girlfriend—a presence that may help explain why his new songs come off as less jaded. "It's the record of a happier person," says David Berman, whose band, the Silver Jews, generally includes Malkmus's guitar and vocals. "The singing on Pavement records was completely informed by [Malkmus's] disgust at his bandmates' incompetence. That was the source of tension and sass that made him sound so entertainingly rude. That's gone, and whimsy is what's left."
That sense of whimsy infiltrates the album's instrumental backdrops as well as its lyrics. If Malkmus's wordplay once resembled a sophisticated game of magnetic poetry, it now reads like a well-done Mad-Lib: One track alone cites a sorority, a Volvo (with ancient plates) and the vulgarity of toe rings (finally somebody speaks up!). The singer—who wrote Pavement's "Stop Breathing" about pushy tennis parents around the time that grunge heroes were growling about teen angst—is engrossed with the bourgeoisie. "There's a lot of fun in skewering the upper-class slacker," he notes. "There are tons of them here in New York; they're just wearing nice clothes and deciding what party they're going to be seen at."
Ironically, those same people constituted a chunk of Pavement's audience and continue to bolster what many assume is a moribund scene. "These days, an arty band can play three nights at Bowery Ballroom," Malkmus says. "In the early '90s, it was big if you could play one at Maxwell's. Bands survive on all the kids at computer companies that have $20 to see a show."
Back on the court, I slice a volley underneath Malkmus's racket, tying our burgeoning set at 2-2. I have broken his mighty serve, and despite his unperturbed countenance, Malkmus—too cool to care, too smart not to—is irked. Alas, our time is up, and we get bounced from the court; his outward relief at not losing just barely overwhelms his disappointment at not winning.
Malkmus seems more confident when I see him weeks later, onstage at the Bowery Ballroom with the Jicks. Larimer enthusiastically sings backup and shakes some fierce Linda McCartney maracas. It's the same old Malkmus—cocksure, quick-witted, sly—only his guitar playing reaches further than it has in the past, and this master of slack actually appears to be...trying. Perhaps he's finally found a forum conducive to effort. "I'm proud of the band," he says. "But it's too young to say. Like when Drew Barrymore gets married. It's all good forever, and then she's divorced in a month."
Stephen Malkmus (Matador) is in record stores now.