The 20 best Halloween songs of all time
All other lists are wrong
By Drew Millard Fri Oct 28 2011

It's that time of year again, and before you don your costume and hit the town for a night you'll never forget, be sure to throw on this playlist of the best Halloween songs of all time.

RECOMMENDED: All Halloween, NYC coverage
20
"Monster Mash" by Bobby "Boris" Pickett
We had to get this out of the way. Give in to its dumb, dumb charm.
19
"Accordion" by Madvillain
The rap equivalent of your crazy uncle making you stick your hand into a bowl of "brains," when you both know it's actually just spaghetti and peeled grapes.
18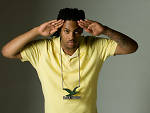 "Bustin' at 'Em" by Waka Flocka Flame
This isn't a Halloween song per se, but the message of the song is very clearly that Waka Flocka will turn you into a ghost. Plus, during the second half of the video, he dresses up at Anton Chigurh from No Country for Old Men.
17
"Halloween Wurks" by DJ Nate
You know what's a cool idea? Turning the Halloween theme song into a Chicago Juke track. DJ Nate, you truly are a track genious, even if you spell genius like that.
16
"Friendly Ghost" by Harlem
The peppiest song about being in love with a dead person since Weezer's "I'm in Love with a Ghost (Happily)" (Note: This is not an actual Weezer song.)
15
"I Will Possess Your Heart" by Death Cab for Cutie
Yeah, the song's kind of sweet, as long as you're cool with a stalker being madly in love with you.
14
"Witch Hunt" by Zomby
With the pittering hi-hats and gunshots permeating Zomby's eerie soundscape, it's more like the witch is hunting you.
13
"Happy House" by Siouxsie and the Banshees
They say the house is happy, but seems more haunted to us. Just throwing this out there, but in our book, Siouxsie > Robert Smith.
12
"Clipse of Doom" by Ghostface Killah
This beat sounds like you're dragging a body over a Led Zeppelin sample, and Ghost is really mad that somebody around him is drinking Budweiser. If you think about it, every day is Halloween when you're Ghostface Killah.
11
"Big Bad Wolf" by Tech N9ne
Ever hoped someone would rap a song from the perspective of the the Big Bad Wolf? How about a song that did so while sampling Soft Cell? Tecca Nina's got you covered.
---
You might also like
---
TONY 20 best Halloween songs playlist on Spotify
Live music calendar for New York City
By now, Lorde's smash hit, "Royals," has become so...

The city's hardest-working big band holds forth in...

James Levine returns to the Met to preside over on...
27

more events »
Time Out videos
---
---
@TimeOutNewYork
Subscribe to Time Out New York on Spotify for playlists and recommendations from our Music team.


Check out New York's best restaurants, hottest street style, cool apartments and more.