The Best around
An unlikely trio pulls from all corners for its worldly music.
By Colin St. John Mon Jul 13 2009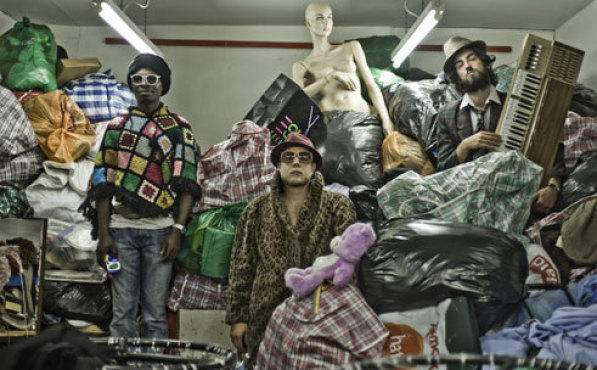 The Very Best Photograph: Radioclit (Very Best)
As the news of Michael Jackson's death reverberated, his songs started to live again. But with his greatest hits emanating from seemingly every loudspeaker on earth, one tune slipped through the cracks: "Will You Be There," from 1991's Dangerous (but better known as the theme for the killer-whale flick Free Willy). Offering lyrics such as "Hold me like the River Jordan / And I will then say to thee / You were my friend," the slightly sappy cut is not Jackson's best work. Even so, it had already been pressed into unexpected service last year, when Jackson's ardent singing emerged through an African choir to wrap up 2008's strongest mixtape, Esau Mwamwaya and Radioclit Are the Very Best. Heard now, the remix is a fitting tribute, and the rest of the tape by the Very Best—singer Esau Mwamwaya and producers Johan Karlberg and Etienne Tron—scales similar heights. (Download it at greenowl.com/theverybest.)
Karlberg, who is originally from Sweden, and Tron, who hails from France, teamed up in London in 2004. As Radioclit, the DJ duo began putting together makeshift Internet radio shows. By 2007, the group had scored a residency at the Old Blue Last, were producing for artists like Bonde Do Role and Santigold, and counted M.I.A. as a pal. But it wasn't a glamorous encounter that formed the Very Best. "Esau basically ran a junk shop—you could find any fucking weird thing in there, and it was a 30-second walk from our studio," Karlberg explains on the phone from London. "Etienne would always go in there. He bought a bike one day, and invited Esau to a housewarming party." Karlberg learned that Mwamwaya was a drummer and invited him to record, only to discover when his new mate arrived at the studio talking about toms and hi-hats that Mwamwaya wasn't the traditional percussionist Karlberg had assumed. But serendpitously, Mwamwaya could sing; within the hour he'd written the lyrics for "Chalo," which appears on the Very Best's proper debut, Warm Heart of Africa.
That warm heart is where this unique cast distills its creative juice. Mwamwaya connected with TONY via e-mail while en route from Lilongwe, Malawi, to London. (Originally hailing from the southeast African country, he recently moved back there.) The singer delivers his lyrics in a variety of dialects, reflecting an itinerant childhood as the son of a Malawian civil servant: "Mainly it is the Malawi national language, Chichewa. I sing Tumbuka and a bit of Ngonde...I also do add a bit of Yao...a bit of Swahili as well." Mwamwaya sang in that host of languages for two years in a cover band, developing a versatility well suited to his current pursuits. While Mwamwaya doesn't choose the samples in the Very Best, his range of experience makes his role seem like fate.
Most of the new album was actually finished before the trio happened upon its celebrated mixtape. A collaboration with M.I.A. ("Rain Dance") was already in the can for Warm Heart when an advance copy of her 2007 breakthrough, Kala, arrrived. Karlberg says, "I heard 'Paper Planes,' and I was like, Damn, it'd be really cool to get Esau to sing on this and put it on the Internet the same day as M.I.A.'s album comes out...to start a little bit of hype about him." Capitalizing on that new momentum, the Very Best assembled a mixtape with contributions from BLK JKS and Santigold, and samples ranging from the Beatles to Vampire Weekend. No matter what Mwamwaya sings over, his diverse tongue is complementary and often dominant. "I leave the music to Radioclit," he explains. "I write [the lyrics] and sing. We trust each other completely."
Another assured soul is Ezra Koenig, Vampire Weekend's lead singer. After Radioclit unsuccessfully vied to produce VW's debut, the Very Best remixed "Cape Cod Kwassa Kwassa" as an official B-side (it also appears on the mixtape). Koenig returned the favor, singing on Warm Heart's title track. Ever industrious, they put most of the original tune together in a single day. The result, much like the rest of the album, is a sunny, worldly pop delight—not far removed from Koenig's day job. "They all share a genuine love of music that has little to do with genre," Koenig enthuses. "It's three people who are interested in making great pop songs using such disparate elements. It's a very special group." Given that kind of reception, the Very Best might well live up to its lofty moniker.
The Very Best plays (Le) Poisson Rouge Sat 18. Warm Heart of Africa is out in September.
RELATED
Ample samples
The Very Best's sample cache is wide and varied. Here are some choice picks from the duo's mixtape and debut CD.