The best concerts of 2011
James Blake, Radiohead and Obituary were among this year's crowd-pleasers.
By Marley Lynch, Sophie Harris, Hank Shteamer and Steve Smith Sun Dec 11 2011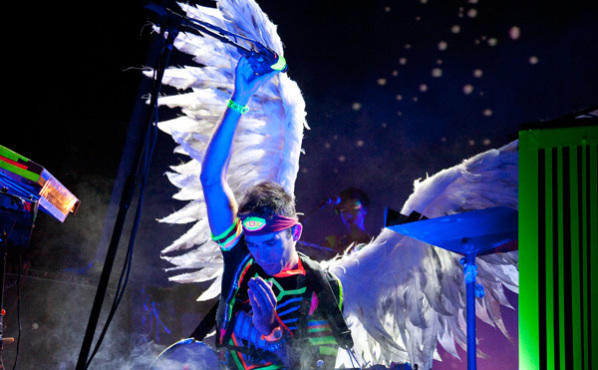 Sufjan Stevens at Prospect Park Bandshell Photograph: Virginia Rollison
James Blake at Music Hall of Williamsburg, Mar 14
This young producer's U.S. debut saw him masterfully wielding an ache provoked by tension and release, establishing himself as a master of poised suspense.—ML
Modern Jazz Quartet Tribute at the Allen Room, Apr 16; Paul Motian MJQ at the Village Vanguard, May 17
Two homages to the Modern Jazz Quartet—the first genteel, the second fractious—turned a spotlight on vibraphone star Steve Nelson.—SS
Tarbaby at Le Poisson Rouge, June 24
Oliver Lake's acidic alto sax darted over the muscular roil of pianist Orrin Evans, bassist Eric Revis and drummer Nasheet Waits in a set of expressionistic jazz that felt as mighty as a gospel-choir shout.—HS
Sufjan Stevens at Celebrate Brooklyn, Aug 2
Pouring rain only made gaudy costumes, elaborate dance routines and triumph-over-heartbreak songs more wonderful, when Brooklyn hero Stevens closed his multimedia Age of Adz tour. Who doesn't like a smiling wind sock onstage?—SH
Beyonc at Roseland Ballroom, Aug 14
An entertainer at the peak of her powers, Beyonc strutted, cooed and shimmied through a dazzling array of hits in a tiny (for her stature) venue. B makes all who surround her feel special: When you left, it was as if you'd just been given a gold star.—SH
Lindsey Buckingham at the Town Hall, Sept 27
Supporting a strong new solo record, Fleetwood Mac's male lead and fingerpicking demon of a guitarist proved that he still runs on pure raw-nerve emotion.—HS
Radiohead at Roseland Ballroom, Sept 28
The King of Limbs disappointed critics, but the band deftly brought its synthetic creation to life at an intimate surprise show, while also regaling fans with a smattering of old-school classics.—ML
Autre Ne Veut at Death by Audio, Oct 22
The term victim of love took on a whole new meaning as Autre Ne Veut pursued winsome R&B ballads to masochistic extremes, writhing through an unofficial CMJ Marathon set that effectively amounted to a soul exorcism.—SS
Obituary at Santos Party House, Nov 19
The no-frills groovefests of this Florida death-metal institution were a perfect match for Santos' punishing sound system; no other heavy show I caught in 2011 sounded as clear and full.—HS
A.A. Bondy at Bowery Ballroom, Nov 22
This raspy-voiced Alabama song man managed to shut up a sold-out crowd with his romantic, mournful and gorgeously old-fashioned songs.—SH
Users say
503 Service Unavailable
No server is available to handle this request.