Tim and Eric Awesome Tour, Great Job! Chrimbus Spectacular
The brains behind Adult Swim's bizarre sketch show attempt to explain what's happening on their live tour.
By Kenny Herzog Mon Nov 22 2010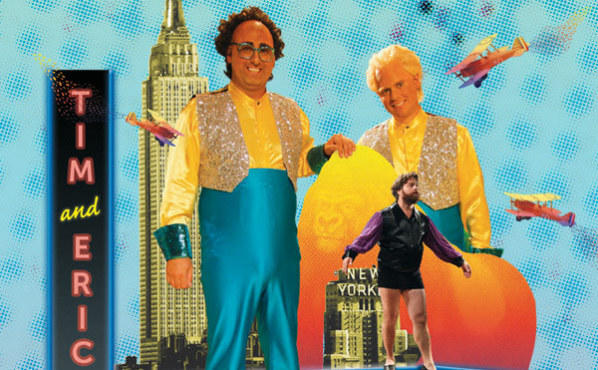 Tim and Eric Illustrator: Able Parris
As a live experience, the cultish Adult Swim sketch-comedy venture Tim and Eric Awesome Show, Great Job!'s holiday event is a bit like Disney on Ice directed by attention-deficit teenagers on mushrooms. The series, created by Tim Heidecker and Eric Wareheim, is surreal enough as it is, with sketches about Tiny Ted Danson (exactly as it sounds) and an inept '70s-style bar-band called Pusswhip Banggang. The live show incorporates all that, but also celebrates the duo's emergent holiday of Chrimbus, which... Well, it's hard to explain. Heidecker and Wareheim, who are currently living out of a tour van as they bring the show across the country, gave us a rundown (kinda) of what audience members can expect at the NYC show.
What would you say is the theme of Chrimbus, for the uninitiated?
Eric Wareheim: The way it works is that Winter Man sneaks into your office cafeteria, and he's going to expect your Chrimbus bush there. And if that bush is trimmed properly, and if that is a wet bush, Winter Man will hide a present inside of it. One of the other ten commandments of Chrimbus is that to get Winter Man to even come to your office, you need to eat one pound of your own hair. We've got special guest Dr. Steve Brule, who [appears] on the Chrimbus special, to tell you all about that tenet.
Is Dr. Brule going to be onstage, or perhaps be beamed in by satellite? Or are you keeping that close to the vest?
Tim Heidecker: Close to the vest. There will be Brule in some way.
Are there any other significant tenets or hallmarks of the holiday?
Heidecker: It's a lunch holiday. It's celebrated during the lunch hour. And it celebrates the gift of getting, not so much the gift of giving.
Wareheim: A popular Chrimbus gift is a packet of dried shrimp. It's a ceremonial gift.
New York audiences always like to feel they're special. Are there any unique surprises in store for your NYC shows?
Wareheim: Definitely. We're actually doing a King Kong bit. We re-created the Empire State Building on stage, and I'm King Kong, and Tim is the beautiful woman, and we redo it. It's about an hour-and-a-half bit. That's how we open the show. We have radio-controlled planes that fly around. I swat them down, and Tim's screaming. It's very beautiful.
Naturally, people are wondering what other friends of yours might show up.
Heidecker: Todd Barry is definitely going be on the guest list. He's not going to have an opportunity to perform, even though it would be a great venue for him and a great audience for his kind of comedy. But he'll probably be at the after-show backstage, getting free beer from us.
How will you incorporate some of your recurring characters, like elderly karaoke queen Ruth Carr, into the show?
Wareheim: Well, our rock & roll band, Pusswhip Banggang, plays a Ruth Carr song, "Come Over." On the West Coast, it's been a huge hit. People come on stage and they dance and they sing along.
Heidecker: It's a crowd favorite.
People such as Ruth have their own style; can we expect any crazy wardrobe choices from the two of you as well?
Heidecker: Well, we're just going to come up in Gap slacks and white T-shirts and do some long-form political improvisation. No costumes... No, I'm just kidding. Of course, we pull out all the stops on these tours. We're coming to give New York a show that's worthy of its name, being that we're playing pretty much on Broadway. So for one night only you're getting a Tim and Eric Broadway show. That's what we try to do.
Your primary competition on Broadway might be The Pee-wee Herman Show. Are you nervous about competing with Pee-wee?
Heidecker: Not nervous at all. I think he'll have a great run, but on that particular night, there'll be zero seats in the house for his show, because they're all going to be at the Best Buy Theater enjoying Tim and Eric's comedy.
Right, the theater was recently renamed.
Heidecker: Per our request.
But that doesn't come into conflict with the Cinco corporation, the faux-company that's regularly parodied on the show?
Heidecker: No, we requested the name change because we have an exclusive deal with Best Buy.
What kind of perks does that deal entail?
Heidecker: We have to say Best Buy 100 times in our show, and we get a $200 gift card to use at any Best Buy store.
Wareheim: You'd be surprised how difficult it is to say Best Buy 100 times at a live show, but we do it. It's pretty seamless.
Heidecker: Our show's only about 100 minutes, so if you think about it that way, we're saying the words Best Buy once a minute. We make it work.
GOOD SHOW! Tim and Eric Awesome Tour, Great Job! Chrimbus Spectacular 2010: Best Buy Theater, 1515 Broadway at 44th St (212-307-7171, bestbuytheater.com). Sat 27 at 7, 11pm; $26--$30.