Top ten air-sex anthems for the Air Sex Championships
Think your air-guitar technique is pretty good? Warm up for this week's Air Sex Championships with these sizzling tunes.
By Maya Friedman Tue Jun 26 2012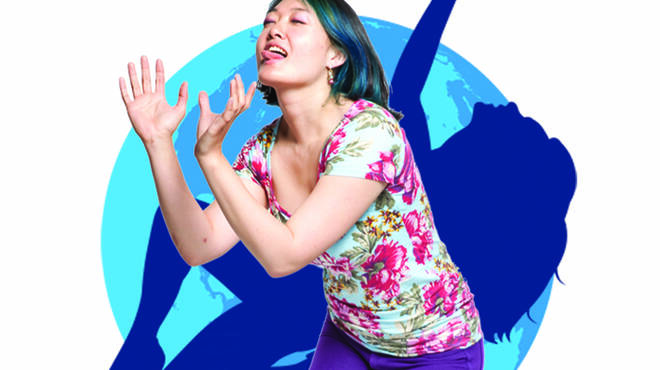 Photograph: Jakob N. Layman
Everyone's got that secret something they're good at—be it paring apples, juggling, or, er, getting down and dirty with an imaginary sex partner. And because New York has something for everyone, the 2012 Air Sex Championships roll around this Thursday, June 28. The competition started when a gaggle of girlfriendless guys from Japan decided that simulating sex to music with an invisible partner was a fine form of entertainment, and since August 2007, sponsor Alamo Drafthouse has been hosting bimonthly competitions for those who want to let their inner freak run wild. There's just one rule: No nudity. Hopefully our top ten boning ballads (with some dirty bonus tracks) will make up for it.
RECOMMENDED: All Air Sex Championships stories
1. "Closer," Nine Inch Nails
This 1994 boning anthem didn't become Nine Inch Nails' biggest hit by tiptoeing around the birds and the bees. While radio stations only agreed to play the censored version, the full-length explicit edition is the more popular ode to animalistic sex (surprising, that). The filthier, the better. Our minds boggle at how this song could be artistically interpreted at the tournament.
2. "Push It," Salt-N-Pepa
The foxy ladies of this all-female rap crew weren't afraid to prove they were number one in a hot party show, no sir. That breathy whisper—"Ah! Push it!"—followed by the women's suggestive "ooh baby, baby" teasing is what landed this 1987 Salt-N-Pepa hit on our list as a top bump-and-grind tune.
3. "Da Ya Think I'm Sexy," Rod Stewart
Rod the Mod got heat for going disco on this 1978 one-night-stand recap, but when he sang its chorus, hordes of ladies in the audience would scream back yes! Was it Stewart's tight spandex or his blond mullet that was such a turn on? You decide.
4. "I'm Goin' Down," Mary J. Blige
No, this song isn't about doing the dirty down there. This 1994 emotional-roller-coaster R&B classic tells the tale of a woman who has been left by her lover: "I'm goin' down / Cause you ain't around baby / My whole world's upside down." It's Blige's sultry tones that are making you think like that. For her hit, the soul queen revamped the Rose Royce single "I'm Going Down" by removing a "g" and adding an apostrophe. Voila! By a simple editorial tweak, "I'm Goin' Down" rocketed 50 places on the U.S. Billboard Hot 100. Work it, Blige.
5. "Pour Some Sugar on Me," Def Leppard
While Def Leppard manages to PG-down this sex ballad by using a metaphor—"Pour some sugar on me"—this old-school '80s tune is still a surefire way to get into that special someone's tight-ass pants. This stadium-perfect smash hit helped earn the band its first Top 5 spot in 1988.
6. "Touch Me," The Doors
Is there any other way to respond to Jim Morrison as he coos "Come on, come on, come on, come on / Now touch me, baby!" besides "of course"? Curiously, this tune reached popularity around the time Morrison was arrested in Miami for indecent exposure. Perhaps the frontman started taking the lyrics a little too seriously.
7. "Touch-A, Touch-A, Touch Me," The Rocky Horror Picture Show soundtrack
Saving the best for (near) last, this cry for intimacy is the eleventh song in the bizarre Rocky Horror Picture Show. Spiced with themes of pent-up sexual angst and a desire for sexual exploration, Susan Sarandon's purer-than-pure Janet Weiss pleads, "I've got an itch to scratch / I need assistance / Toucha toucha toucha touch me / I wanna be dirty!" Don't worry, Janet, your itch will get scratched later on in the movie.
8. "Cherry Pie," Warrant
Lead singer Jani Lane wrote this not-so-subtle tribute to coitus in 15 minutes on a pizza box. After 20 years, however, he explained that the '90s believed-to-be sex ballad was, in fact, about a cherry pie. "Here I was, this macho rock star who had written a heartfelt ode to the most exquisite-tasting food to ever grace [my] palate." Whatever, Lane, we still prefer to believe this song is one big juicy sexual innuendo.
9. "Too Close," Next
Though Next's lyrics may resonate better with young members of our audience (shout-out to 15-year-old boys), whether you're gettin' busy alone or with someone else, the three chest-baring lads recorded one of the sexiest accompanying tunes for either act. The story—a man who can't control his arousal while grindin' in a club—makes listeners also want to bust out some air-sex moves.
10. "Ball and Biscuit," White Stripes
In this homage to bluesman Willie Dixon's "The Seventh Son," the Whites Stripes prove music and sex are two peas in a pod. The blues-heavy riffs and pulsating drumbeats pretty much wail "just do me"…for seven-whole minutes. Ah, swoon.
You might also like
You've got the music, now learn some moves from 2011's winner
Politics goes pop: Top ten musical moments
100 best NYC songs
See more in Music
Share your thoughts