Tyshawn Sorey
The drummer/composer reveals his range with a month of shows.
By Steve Dollar Tue Jul 21 2009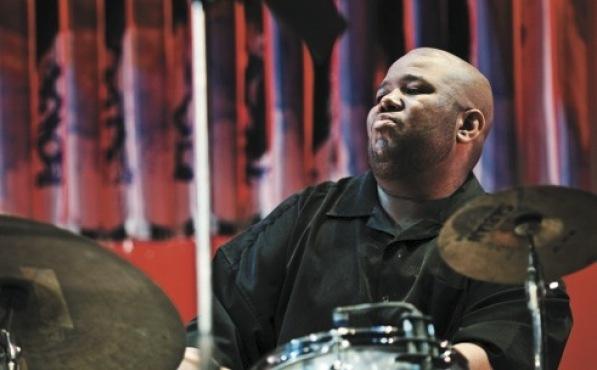 Photograph: Peter Gannushkin/Downtownmusic.net
Outside, two blocks away in Prospect Park, the weekend is getting under way with a free concert, and the streets are full of people. But it makes perfect sense that Tyshawn Sorey is spending a night off listening to records. The much-admired and sometimes misunderstood drummer, composer and bandleader has driven from his Maplewood, New Jersey home to play DJ for a journalist on a Friday night. A robust performer, Sorey, 29, has enjoyed a meteoric run through a variety of enviable liaisons. Besides formative stints with headstrong leaders like Dave Douglas and Steve Coleman, he continues to engage in spirited bandstand partnerships with saxophonist Steve Lehman and pianist Vijay Iyer, among many others—all the while defining himself as a surprising and original voice.
Sorey cues up a rare vinyl copy of John Cage's "Fontana Mix" and, amid the recording's chance pops, blurts and squiggles, reads from Cage's liner notes: "I consider my music once it has left my desk to be what in Buddhism would be called a nonsentient being. If someone kicked me, not my music but me, then I might complain. But if they kick my music or cut it out or don't play it enough or too much or something like that, then who am I to complain?"
That perspective seems apt for a powerhouse drummer who consistently plays against expectations. His first solo album, 2007's That/Not, rattled some listeners with a subdued 42-minute solo piano piece that declared as great an affinity for Morton Feldman as for Tony Williams. Even one of Sorey's bandmates wasn't convinced it should have been on the record. Koan, due in September from the 482 Music label, likewise insists on a rippling stillness, with pellucid writing for nylon-string guitars.
"People didn't know completely how to go about listening to it," Sorey says of the piano piece. Later, he recalls a comment from pianist Matthew Shipp: "If you're creating and doing something that's meaningful to you, in order to get your work appreciated you almost have to piss people off."
Sorey's gentle, scholarly demeanor is anything but combative, though. He's hopeful his new music will find ears more readily perceptive to his identity as a composer who drums. That skill will be on full display in August, when Sorey curates a month of shows at the Stone. Many will feature drummers he admires: peers who merit wider attention, including Mark Guiliana and Dan Weiss, and inspirations such as Gerry Hemingway. The series also marks the last chance (for now) to see Sorey play on a regular basis, as he's taking an extended break to study composition with avant-garde avatar Anthony Braxton in a master's program at Wesleyan University.
Sorey shares an earnest, seeking quality with Braxton, who also has upset convention, particularly in terms of what kind of music African-Americans schooled in jazz are supposed to make. "Quiet as it's been kept," Sorey says, "people would tell me to my face that this is not like 'real' black music. To me, it's a very serious problem."
The drummer tosses on a track by Heernt, an antic trio led by his friend Guiliana. A clatter of typewriter keys rises under a bustle of rhythms and abrupt changes. "It doesn't feel like the same thing is being played over and over again, which is what I'm trying to do in my music," Sorey says. "I'd like to think I could play with a polka band and still get my individualism in there."
Buy these

Tyshawn Sorey's top drummer-led albums
Max Roach, Drums Unlimited (Atlantic, 1966) "This is pure music: Max's solo-drum material on this recording is the reason I play drums today." Buy Drums Unlimited on Amazon.com | Buy it on BN.com
Jack DeJohnette, The DeJohnette Complex (Milestone, 1969) "Quite astounding. [Even now], there's no sign of him slowing down at all. No matter how old he gets, he's always into something new." Buy The DeJohnette Complex on Amazon.com | Buy it on BN.com
Tony Oxley, 4 Compositions for Sextet (Columbia, 1969) "A very broad spectrum of avant-garde music from the late '60s, but every component has a compositional element to it." Buy 4 Compositions for Sextet on Amazon.com
Andrew Cyrille with Jimmy Lyons, Something in Return (Black Saint, 1993) "It's unbelievable the amount of sound Cyrille can get out of a traditional drum kit." Buy Something in Return on Amazon.com
Jeff "Tain" Watts, Citizen Tain (Columbia, 1999) "Strikingly soulful, at the same time that there are all these unfamiliar elements in the music. Every time I see him play it's scary." Buy Citizen Tain on Amazon.com
Buy That/Not on Amazon.com | Buy it on BN.com
Tyshawn Sorey plays with Brandon Ross at the Stone Fri 24, and curates the space during August. Koan is out Sept 29.