Wanda Jackson
The pioneering woman rocker dishes on working with Elvis, Jack White and more.
By Jay Ruttenberg Fri Jan 14 2011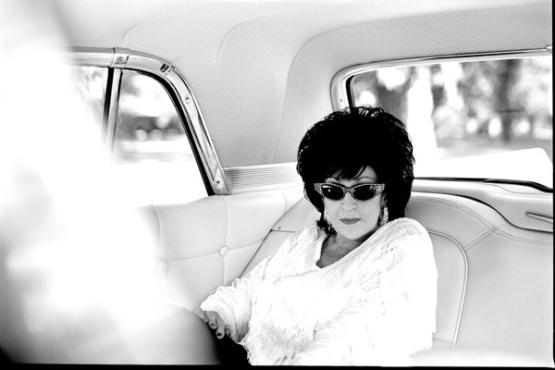 JACK'S ON Produced by Jack White, The Party Ain't Over should bring Wanda Jackson the kind of attention she hasn't seen in decades. Photograph: Autumn DeWilde
Music Hall of Williamsburg; Fri 21
Bowery Ballroom; Feb 24
When Wanda Jackson met Elvis Presley in the mid-'50s, she was a rising teenage country star, while he was rapidly cementing his image's place on the bric-a-brac of America's future. As young singers and tourmates will do, the pair briefly dated, and Presley urged his flame to introduce new elements to her music: namely rockabilly and rock & roll, then largely untouched by women's voices. "I've never had a lot of self-confidence," explains Jackson, America's long-reigning Queen of Rock, speaking from her home in Oklahoma City. "Consequently, I need a man to tell me what to do. My father played that role in the beginning. Then Elvis pushed me to try something new."
Jackson, who is 73, allows a touch of regret to slip into her grandmotherly drawl. "Lately, it's almost been like people are afraid to suggest something to me," she says. "It's like I'm the old pro—and who are they to tell me? So I haven't really been pushed that many times in my career."
As the singer tells it, any such malaise was squelched in 2009, when she was approached by a young fan itching to produce a record for her. "I knew his name— Jack White—and I knew that he was super popular," Jackson recalls. "That was about it. But I was ready for something new."
Lured to White's Nashville studio, Jackson encountered a resolute and somewhat pushy man, four decades her junior but sturdy enough to be coined "my knight" by the rock doyenne. "I've come to describing him as a velvet-covered brick," Jackson says. "There's this determination underneath a very soft mannerism." And if this depiction echoes that of a certain icon wiggling his hips at the opposite end of Jackson's career, it has not gone unnoticed by the singer. "[Presley and White] remind me very much of each other," Jackson says. "Not only in the role they're playing in my career, but also the men themselves: their character, their mannerisms, the charisma they hold over people. And the way they push you."
Initiated for a single, Jackson's collaboration with the White Stripe culminates with The Party Ain't Over, a rollicking LP due this week on Nonesuch and White's Third Man label. A blaring affair hooked upon Jackson's famed snarl, White's wild guitar and—atypical for both artists—a generous heaping of soulful horns, the album pops with the wicked glee of early rock & roll. And though it is dominated by hoary songs associated with artists like the Andrews Sisters and Hank Williams, Party peaks with a pair of contemporary compositions: Amy Winehouse's "You Know I'm No Good" and Bob Dylan's rip-roaring 2006 number "Thunder on the Mountain," which was selected for the album by the songwriter himself.
"Jack claims he has three fathers," Jackson says. "His biological father, God the father and Bob Dylan. I thought that was so funny! He called Bob and said, 'If Wanda Jackson does a Bob Dylan song, what should it be?' Bob didn't even take a breath. He said, '"Thunder on the Mountain"—it's gotta be that one.'" (Naturally, Jackson substitutes Dylan's shout-out to Alicia Keys with one for "Jerry Lee.")
Jackson's career has taken extended detours into country and nonsecular music—her '70s albums include Praise the Lord, Country Gospel and (for anyone wondering where her sympathies lie) Closer to Jesus. Yet never for a day did the singer retire, cutting a reliable path through clubs and festivals, particularly in Europe. Jackson's current tour, which brings the singer to Music Hall of Williamsburg on Friday 21 (backed by White) and to Bowery Ballroom next month (sans her young benefactor), should raise her profile to heights unseen since the early '60s. Yet her recent activities easily fall within a larger scheme.
"This is all I've ever known," Jackson says. "I've made every penny I've ever made by singing. My husband [and manager] travels with me on tour, and we really do enjoy our time on the road. We're out in the world alone—it's like a perpetual honeymoon. It's been my life."
Buy music by Wanda Jackson on iTunes