Alan Gilbert, New York Philharmonic music director
A native New Yorker takes up the reins of his hometown's world-famous orchestra.
By Steve Smith Tue Sep 8 2009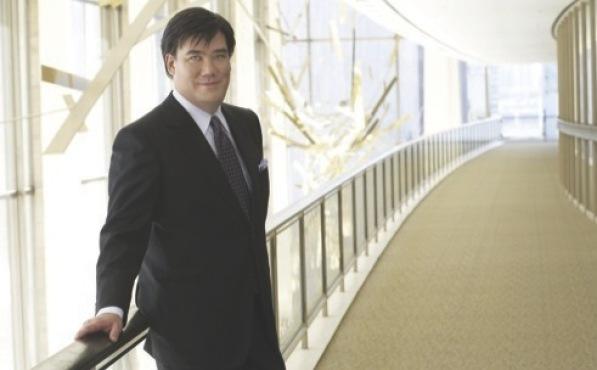 USHERING IN A NEW DAY Alan Gilbert's debut season at the New York Philharmonic promises bold ideas and fresh sounds. Photograph: Hayley Sparks
In the anteroom outside Alan Gilbert's office at Avery Fisher Hall, cardboard boxes stuffed with musical scores and sundry documents are precariously stacked, threatening to topple at a wayward glance. The office, by contrast, is a tidy oasis of discreet decor and cozy furniture. Next to a broad desk, an espresso machine stands at the ready. All is calm—Gilbert included. The conductor, broad and boyish at 42, starts his tenure as the 25th music director of the New York Philharmonic with a nationally televised opening-night gala on Wednesday 16. For all the buzz surrounding his auspicious appointment, Gilbert already seems at home in his new surroundings.
In one sense, perhaps, that's no surprise. Gilbert, a native New Yorker, may have only recently returned to the city after a celebrated eight-year stint as chief conductor of the Royal Stockholm Philharmonic Orchestra. But his familiarity with the Philharmonic and its headquarters extends back to a childhood as the son of two orchestra members: violinists Michael Gilbert, now retired, and Yoko Takebe, still active. Picturing a kid in short pants schlepping his parents' cases isn't so far off the mark.
"I did go on tour with the orchestra," Gilbert confirms. "I did know many if not most of the musicians by name, and I would help Henry Fogel, the orchestra manager, hand out passports at airports. I did sit next to Roland Koloff, who was the principal timpanist, and play Mattel Electronics Football with him. And I did carry around my Rubik's Cube and show people how to solve it."
A violinist "for as long as I can remember," Gilbert played at home with his parents and sister. "It wasn't that there was this pushy aspect about music, because there were a lot of things that we did," he says. "My parents made a point of sending us to movement class and pottery and sports activities. Then sometimes we would sit at the piano and play Jerome Kern songs."
After learning the rudiments of conducting from his father, Gilbert got his first chance to lead an orchestra while serving as concertmaster of the precollege orchestra at Juilliard. Conductor Ronald Braunstein, the teacher who handed Gilbert the baton, was immediately impressed and urged him to pursue formal studies. Gilbert went on to hone his craft as assistant conductor of the Harvard-Radcliffe Orchestra. A subsequent fellowship at the Tanglewood Music Center in Lenox, MA, provided an opportunity to work with former New York Philharmonic music director Leonard Bernstein. The temptation to imagine a sort of literal baton-passing is strong.
"It would be a stretch to exaggerate that connection," Gilbert says, noting that while he worked closely with Bernstein at Tanglewood and attended dozens of his concerts, he was never among the elder artist's inner circle. "You'd see conductors, especially back then, who obviously were trying to imitate him," Gilbert says. "And as is the case with all great conductors—or violinists or writers—there's no way to imitate, and it's actually really a bad idea to try to imitate the great ones in a superficial way."
Instead, what impressed Gilbert most was Bernstein's "complete dedication, a complete passion in everything he did. When he made music, it really felt that it was the most important thing in the world. If there's one thing I hope I learned from Lenny, it's the possibility for this kind of enthusiasm to exist, and the aspiration of trying to approach that kind of full-blooded, absolutely committed way of living and of making music."
Gilbert's own brand of commitment, more circumspect but still palpable, is evident in the keen intelligence of his programming and the results he draws from his players. It also motivated an explosive profusion of new relationships and initiatives this season. Finnish composer Magnus Lindberg, recently installed as composer in residence, will create new works and supervise CONTACT, the orchestra's newly established contemporary-music series. Baritone Thomas Hampson, a formidable scholar, will perform, advise, lecture and teach. Dynamic Russian maestro Valery Gergiev will helm an intensive Stravinsky festival.
Beyond broadening the orchestra's purview, all these efforts are meant to help forge a new collective identity for Gilbert and the Philharmonic, which he sees as a priority in reasserting the orchestra's place within the city's cultural fabric. "A surprising number of people I'll speak to say, 'Oh, yeah, the New York Philharmonic—I just haven't been in years,' " he says. "That's disappointing, but it's also hopefully a huge opportunity. I'm hoping—and I'm an optimist, so I actually believe—that infusing everything we do with a sincere belief in the quality and importance of the music will create a buzz that will be unmistakable."
Alan Gilbert conducts the New York Philharmonic at Avery Fisher Hall Wed 16.