Live preview: Miranda + Experiments in Opera
Two bold presentations show that modern opera is flourishing in New York.
By Steve Smith Mon Jan 9 2012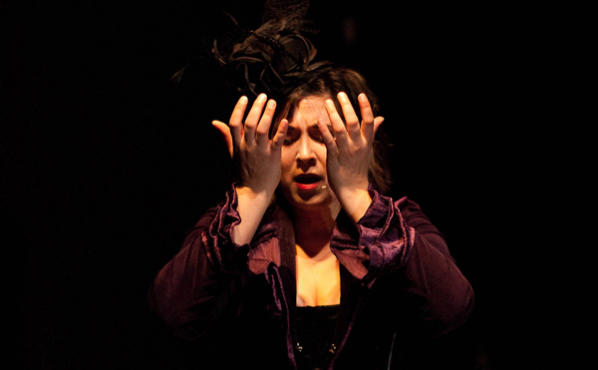 Kamala Sankaram in Miranda Photograph: Benjamin Heller
As the New York City Opera attempts to navigate stormy seas this year, the company has jettisoned a treasured asset: VOX, an annual showcase for works newly or recently written by emerging and frequently offbeat composers, is gone, its return no more certain than that of the company itself. Still, when there is a burning need, someone always steps up to fill it. The first week of 2012 brought news of Prototype: Opera/Theater/Now, a forthcoming initiative founded by the intrepid impresarios of Beth Morrison Projects and HERE.
A hothouse designed to foster fresh work, Prototype won't arrive until next January. But you can glimpse the future this week when HERE hosts Kamala Sankaram's Miranda. A beguiling vocalist whose range encompasses early music, Philip Glass and Anthony Braxton, Sankaram mixes elements of Baroque opera, Hindustani classical music and hip-hop in what she describes as a "steampunk murder-mystery chamber opera."
Another new offering, Experiments in Opera, illustrates perfectly the bootstraps gumption of New York's musical community. Like VOX, this program offers excerpts from multiple works in various styles; the initial outing covers the jazz-punk vivacity of Matthew Welch's Borges and the Other; Jason Cady's bubbly, brainy Happiness Is the Problem; Aaron Siegel's shimmering Brother Brother; and George Aperghis's Sextour: l'origine des especes. That last work, a provocative gloss on writings by Darwin and Stephen Jay Gould, seems ideally suited to an evening that's all about evolution.