The best (and worst) of 2011
The Juilliard School earned top marks with a timely, provocative new opera.
By Steve Smith Sun Dec 11 2011
The best (and worst) of 2011
---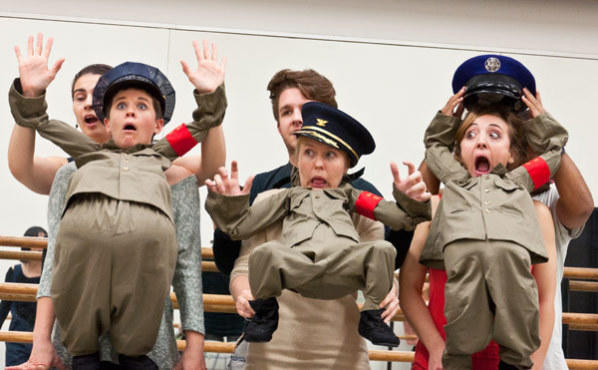 Kommilitonen! at the Juilliard School. Photograph: Lance Wakeling
The best events
1 Kommilitonen! at the Juilliard School
In producing a timely, provocative and sophisticated new opera by veteran British composer Peter Maxwell Davies in a lean, striking David Pountney production, Juilliard showed a courage its grown-up, professional neighbors at Lincoln Center seem unwilling or unable to muster.
2 The Cunning Little Vixen at the New York Philharmonic
Following last season's triumphant take on Ligeti's Le Grand Macabre, music director Alan Gilbert and stage auteur Doug Fitch once again made operatic magic on the Avery Fisher Hall stage—this time with a dazzling vision of Janacek's playful woodland fable.
3 Wordless Music Orchestra: Remembering Sept. 11 at the Met Museum
No single instance in New York's music life this year was more gripping than the long minutes of rapt silence that came in the wake of William Basinski's Disintegration Loops, the culmination of a pitch-perfect act of communal remembrance.
4 Alarm Will Sound: 1969 at Zankel Hall
An enactment of a fabled meeting between Lennon and Stockhausen that never actually occurred, this bold, dazzling music-theater piece demonstrated why Alan Pierson and his Alarm Will Sound players are not just extraordinary musicians but also next-generation thinkers.
5 Alina Ibragimova and Cdric Tiberghien at Weill Recital Hall
There was nothing particularly novel or offbeat about this exactingly performed recital of Francophone works—just the awe-inspiring intensity of a brilliant young violinist, Alina Ibragimova, and the subtle assurance of her partner, pianist Cdric Tiberghien.
6 Ecstatic Music Festival at Merkin Concert Hall
The open-minded, open-eared credo of an emerging generation came into focus during this groundbreaking series, highlights of which included an all-hands opening marathon and Judd Greenstein's Sh'lomo, a spectacular fusion of Jewish liturgy, electric-jazz keyboards and Afrobeat rhythms.
7 Perfect Lives Manhattan
Staged by performance-art cabal Varispeed in public and private spaces throughout the Village and Soho, this live version of Robert Ashley's seminal multimedia opera was punky and profound, showing that innovation has less to do with bottomless budgets than with vision and spirit.
8 Don Giovanni at the Mostly Mozart Festival
Conductor Ivn Fischer, long known as a visionary musician, proved himself an inventive stage director in this gloriously physical conception of Mozart's stormy dramma giocoso—just one more example of how the year's most extraordinary opera took place far from the usual stages.
9 Nixon in China at the Metropolitan Opera
It seemed fitting that the first collaboration from composer John Adams, librettist Alice Goodman and director Peter Sellars finally received its Met coronation. Sellars, true to form, tinkered anew with characterizations, motivations and titillations, proving he views theater as a living thing.
10 Monodramas at New York City Opera
A deft, sensitive triptych of works by Schoenberg, Feldman and John Zorn, hauntingly staged and performed accordingly, was the latest triumph of George Steel's tenure at City Opera's helm; one can only hope that it was not also his epitaph.
The worst
New York City Opera's endless demise
It's taken everything we've got to keep hope alive during the darkest days in this illustrious company's history, and the prospects grew more bleak as the year wore on. Talks between management and unions representing the chorus and orchestra broke down in late November, leading to a request for mediation; what form the company's spring season ultimately will take is anyone's guess.