The best (and worst) of 2011
An engrossing take on Don Giovanni topped this year's shows.
By Amanda MacBlane Sun Dec 11 2011
The best (and worst) of 2011
---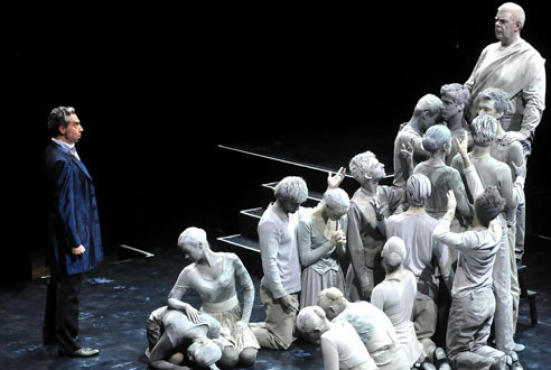 Leporello faced the Commendatore and his minions in Mostly Mozart's Don Giovanni. Photograph: Budapest; Palace of Arts/Zsuzsanna Peto
The best events
1 Don Giovanni at the Mostly Mozart Festival
Seeing the titular lothario being sucked into a sea of grappling limbs on his way to Hell was the bizarre icing on the cake in Ivn Fischer's engrossing take on Mozart's tale of seduction and sin.
2 Ecstatic Music Festival at Merkin Concert Hall
Postclassical or avant-rock? "Who cares?!" was the resounding response from Judd Greenstein's ambitious new festival, which embodied the anything-goes spirit of a passionate crop of composer-musicians now revitalizing NYC's new-music scene.
3 Nixon in China at the Metropolitan Opera
John Adams's landmark opera as staged by Peter Sellars with a fine-tuned libretto by Alice Goodman and choreography by Mark Morris, finally arrived at the Met 24 years after its Houston premiere—and it was well worth the wait.
4 Huelgas Ensemble at the White Light Festival
Overall, the second year of Lincoln Center's audacious fall spiritual-music festival was not as strong as the first, but the early-music singers of the Huelgas Ensemble certainly achieved transcendence.
5 Alarm Will Sound: 1969 at Zankel Hall
The Beatles' noted fascination with avant-garde electronic composer Karlheinz Stockhausen inspired this brilliant two-hour show, which juxtaposed music by Stockhausen, Berio and Lennon/McCartney (including AWS's brazen chamber arrangement of "Revolution 9").
6 Monodramas at New York City Opera
Before everything imploded, New York City Opera reminded us of why it is so vital with one of the most intriguing operatic experiences of the year: a trio of mysterious one-acts from John Zorn, Morton Feldman and Arnold Schoenberg.
7 Wordless Music Orchestra: Remembering Sept. 11 at the Met Museum
The ultra-hip ensemble had a banner year, including a Jonny Greenwood premiere and a Tyondai Braxton collaboration, but its haunting September 11 performance of William Basinski's otherworldly Disintegration Loops in front of the Met's Temple of Dendur was unparalleled.
8 Inuksuit at the Park Avenue Armory
More than 1,200 fearless musical explorers set off into the sonic wilderness of John Luther Adams's Inuit-inspired piece for nine to 99 percussionists—78 in this case—which concluded the bright new Tune-In Music Festival in the Armory's cavernous hall.
9 Atys at the Brooklyn Academy of Music
No one does Baroque like William Christie and Les Arts Florissants decked out in tights and periwigs; Louis XIV would've approved of this luxurious revival of Jean-Marie Villgier's striking 1989 production.
10 West Side Story at Avery Fisher Hall
Full disclosure: I'm a West Side Story obsessive; still, the New York Philharmonic's electrifying performance of Bernstein's music, as the film played with dialogue intact, highlighted the exalted place this score should have in the Western canon.
The worst
Album covers
A new generation has worked hard to make over classical music's style deficiencies, but a few album covers in 2011 proved we still have a ways to go. While Nonesuch's Photoshop faux pas with Steve Reich's WTC 9/11 ruffled a lot of feathers, we'd like to point out another clunker: the goofy, psychedelic cover for Lang Lang's Liszt: My Piano Hero. Both albums contained some top-notch musicmaking, which made the visual awkwardness even more mystifying.