Am I Blu?
By David Fear Tue Nov 18 2008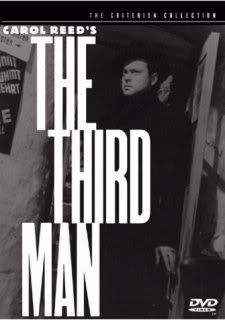 Remember when you bought a Blu-ray player, and prayed to your respective god(s) that Criterion would jump on the Blu bandwagon? Then do you remember how the company that set the standard for how films should be presented in home-entertainment formats announced that its first wave of Blu-ray titles would be coming out in November? And how you jumped for joy, nearly landing on your cats (names: Orson and Truffaut) and you bounded over to your calendar to circle the dates—11/18 and 11/21?
Then remember how you heard they'd been postponed, and you wept, and your cats laughed at you in their sneering, mocking feline way? (Memo to self: Kill those damned cats.) And—why, just this morning!—you saw that circled date on your calendar, and the wounds opened anew?
Well, there's no need to fret, as Criterion has announced new dates for its initial Blu-ray offerings. The first four titles—The Third Man, Bottle Rocket, Chungking Express and The Man Who Fell to Earth—will now be released on December 16; a fifth title, Bertolucci's The Last Emperor, will hit shelves on January 9, 2009. (There was originally another addition to the Criterion Blu brothers—Gregory Nava's El Norte—but neither the press release nor the company's website mentions a new date. We're assuming details for that particular disc are still TBD.) So yes, Virginia, there is a Santa Claus, and that jolly old elf may bring you a Third Man disc for the holidays that looks better than anything you've ever seen before. Just so long as he doesn't bring you a cuckoo clock instead…
Oh, and for those of us who haven't quite got around to investing in a Blu-ray player yet, there's still good news on the Criterion front: It's having a 40-percent-off sale right now on select titles from its back catalog when you order directly from the site. If you've been waiting to nab that Berlin Alexanderplatz box set for under a gajillion dollars, now's your chance.
Write your own review