Brendan Shanahan is a good and great man
By Drew Toal Fri Feb 2 2007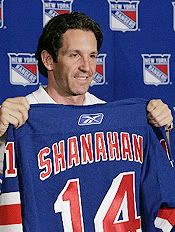 I love Brendan Shanahan. I mean, I hate the Rangers, but this guy is a legend. In any case, his formative years were spent as a Red Wing in Detroit. In fact, while scouring YouTube for footage, I found a fan-made video homage to BS with Boys II Men's 1991 tearjerker "It's So Hard to Say Goodbye to Yesterday" as background music. Frankly, it was kind of creepy, and I have my suspicions that it was actually TONY production guru/lover of all things Motor City Jim Schuessler who bears responsibility for this godless Internet tripe.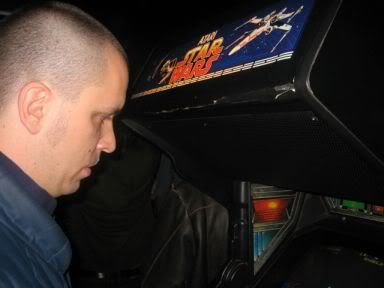 Jimbo (pictured here) waxing TIE Fighters at Barcade, Detroit Rock City--style
Wild, baseless accusations aside, Shanahan has been having a rough season thus far and is starting to make a few irrational imputations himself. He claims that NHL refs have it out for fellow Ranger Jaromir Jagr because he's European.
Shanahan rants,
"I don't know what it is, if there's some sort of prejudice or what the deal is," Shanahan told reporters after the game. "I've never seen a superstar player treated with so much disrespect in this league as Jaromir Jagr.
Uh, really? Prejudiced against Europeans, you say? The numbers don't even come close to bearing out this bizarro claim. Something upstairs must've been knocked loose in his December 30 melee with Donald Brashear. We choose to remember Shanahan as he was, pre--brain damage and still awesome.
Write your own review