Cannes: Jean-Luc Godard infuriates
By TONY Film Staff Tue May 18 2010
Stephen Garrett, our man in Cannes, isn't taken in by self-reflexive mischief.
"In Godard, there is God," fawning moderator Henri Behar once said of Jean-Luc Godard, when the reclusive director appeared at a Cannes press conference nine years ago for loge de l'Amour. Even the effusive Behar might have been understating the occasion for JLG's hard-core fans, a rabid, protective bunch who will defend their master to the bitter end. Predictably, they did so again this year for the deified auteur's new work, Film Socialism.
RECOMMENDED: Full coverage of the Cannes Film Festival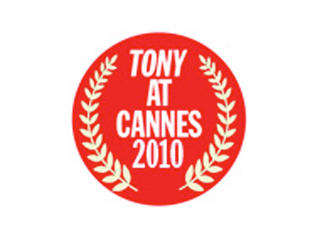 On the 50th anniversary of Breathless (returning to Film Forum next week), Cannes premiered Godard's latest—and reportedly last—feature, a perversely dense, intentionally obscure work of elitist provocation. The movie, which feels like a Carnival Cruise TV ad shot by inept art students, didn't even provide a translation for its polylingual stew, opting instead for "Navajo English," a mock-racist dialect represented by subtitles like "Kamikaze divine wind" and "light because darkness." Sycophantic Godardians likened any dissent to heresy while the rest of us rolled our eyes. As for the director himself? He skipped the fest while true believers stood vigil in front of an empty conference room.
Pope Jean-Luc is the closest a certain sect of the international film community has to an infallible leader. But why would any critic support a filmmaker (and former reviewer himself) who truly seems beyond reproach? Journalists who usually delight in taking sacred cows and grinding them into hamburger meat kneel and eagerly suck teat.
I gave the 101-minute Film Socialism a half hour of my time before bailing, and therefore happily recuse myself from passing any more judgment on the movie. (I was, however, glad to sit through the trailer, a sped-up version of the film in four minutes posted online.) For his part, Godard sent a letter of regret for his absence to the French newspaper Liberation. "Due to problems the Greeks would be familiar with, I unfortunately cannot be at your disposal in Cannes," Godard said—whatever that means. "I'd walk to the ends of the earth for the festival," he continued, "But alas I will not be taking a single step further. Sincerely, Jean-Luc Godard." Something about that sincerely strikes me as off.—Stephen Garrett
You might also like
---
@TimeOutNewYork
Subscribe to Time Out New York on Spotify for playlists and recommendations from our Music team.


Check out New York's best restaurants, hottest street style, cool apartments and more.