Cannes: Mick Jagger rolls into town
By TONY Film Staff Wed May 19 2010
The movies keep coming, and our Cannes correspondent can't get enough. First, though, he had to party with the Stones. And by Stones, we mean Mick. And by party, we mean: be in the same room as.
What's more Continental than watching Mick Jagger spout impeccable French? The rubber-lipped sexagenarian was here in Cannes today tub-thumping for Stephen Kijak's new rock doc, Stones in Exile, and his mere presence (rock-star dapper, in a double-breasted sharkskin jacket, black jeans and silver-and-gray Nikes) sent spasms of delight through the crowd at the Palais Stphanie.
RECOMMENDED: Full coverage of the Cannes Film Festival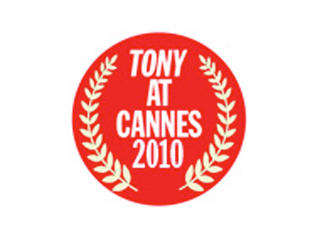 "Nous sommes les hommes beaus et stupides," Jagger explained about the film (no translation necessary). The movie is a glowing, adulatory scrapbook of drug-hazed reminiscences about the Rolling Stones' 1971 summer in Villefranche-sur-Mer, where they recorded their double-album masterpiece Exile on Main St. It felt aptwatchingthe 60-minute doc just a short drive from the wedding-cake chateau where music history was made. But to have Mick christen the screening was even better—especially when his French pronouncements were deep-voiced and surprisingly free of his notoriously chewy South England accent. "I'll do a bit of French and English, if you don't mind," he continued in his native tongue, restoring that famous growl with a smile.
Stones in Exile itself is a trove of rare footage from the band's vaults, dozens of unseen photos of hotties Bianca Jagger and Anita Pallenberg, outtakes from Robert Frank's rarely screened Cocksucker Blues and warm recollections of the grand basement where they recorded classic tracks like "Tumbling Dice." (Kijak's memory-lane souffl is better suited for sentimentalists than scholars.)
That hour-long doc was the perfect follow-up to Olivier Assayas's five-and-a-half-hour Carlos, his deeply satisfying dramatic portrait of infamous international terrorist Carlos the Jackal. Ambitious, evocative, emotionally vivid and passionately relevant in its sociopolitical concerns, Carlos follows the violent figure (expertly played by Edgar Ramirez) from the early 1970s through to the 1990s, chronicling his ideological unraveling from committed revolutionary to bloated mercenary.
My first, paradoxical reaction after seeing Exile and Carlos back-to-back: They felt the same length. Which reminds me of a piece of wisdom Roger Ebert dropped at a Cannes panel discussion a decade ago—memorable movies are never too long; forgettable ones never end quickly enough.—Stephen Garrett
You might also like
---
@TimeOutNewYork
Subscribe to Time Out New York on Spotify for playlists and recommendations from our Music team.


Check out New York's best restaurants, hottest street style, cool apartments and more.