Cannes: Up in the air
By TONY Film Staff Sat May 15 2010
What, precisely, will please TONY's Stephen Garrett? Hard to say—the guy's got high standards. Still, there's plenty of game time left and he's just warming up.
We're three days into the festival, and nothing in the main competition looks anything near prizeworthy. But cinastes on the Croisette aren't grinding their teeth just yet. The lineup hasn't been without its charms, even if the storytelling is slim.

RECOMMENDED: Full coverage of the Cannes Film Festival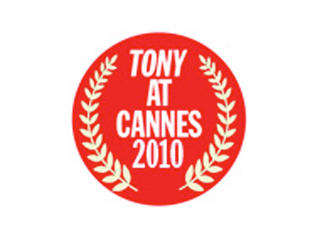 Arguably the weakest offering has been On Tour, pictured, from actor Mathieu Amalric (The Diving Bell and the Butterfly), a familiar face at Cannes who has had at least one film—if not more—at the festival every year for the past five. Here, he not only stars but directs a picayune portrait of Yank feminist burlesque performers entertaining France's coastal towns. Unstructured and freewheeling yet dramatically flaccid, this portrait of rootless lives (some might say desperate) is an undeniably bighearted hug to all those driftwood personalities that never seem to fit well with others. The film's eccentricities are indulged to a fault, though, and wear out their welcome swiftly in absence of a truer purpose.
Moving on, Chongqing Blues is an earnest tearjerker about a deadbeat dad estranged for more than a decade from his wife. It's tragedy upon tragedy: Their son was shot by the police after a knife-wielding meltdown in a mall department store. Chinese filmmaker Wang Xiaoshuai, back in Cannes after his 2005 prizewinning feature, Shanghai Dreams, succeeds in evoking a quiet anxiety with his unadorned shooting style, plus a whodunit structure maintains the intrigue nicely. But though the father heads toward his inevitable catharsis, the revelations don't pack much punch.
Deliciously melodramatic with a gonzo ending, Im Sang-soo's voluptuously stylish The Housemaid chronicles the slow rot of a wealthy South Korean family headed by a young horndog of a patriarch. He decides to screw his new, eager maid despite his pregnant wife and (as it turns out) gleefully sociopathic mother-in-law. The wicked fun is undercut by a somewhat exaggerated class structure, where servants seethe with visible hostility and their masters relish abusing their stature. But nothing can explain the bizarrely combustible climax, way too good to ruin. (It's less OMG and more WTF, which is never a bad thing at a festival better known for its self-seriousness.)
The best onstage appearance so far has to be that of 101-year-old Manoel de Oliveira, who continues to impress less for his filmmaking than for his simple refusal to die. Opening the "Un Certain Regard" sidebar section with his latest, The Strange Case of Angelica, De Oliveira bounded up the short steps from the aisle while the theater exploded in a standing ovation. Steady and smooth as silk, the dapper centenarian carried a cane but never used it (and shooed away someone who offered to take it), then launched into a thank-you speech delivered in fluent, Portuguese-inflected French. His movie, a simple charmer about a photographer who falls in love with the corpse he was hired to shoot, is made leaden by passages of stilted dialogue but comes alive in moments when the woman's spirit whisks the man away on supernatural flights over the countryside. The sequences, bereft of speech, are a sly nod back to De Oliveira's roots in silent film. This must be the only living director who can make that claim.—Stephen Garrett
You might also like
---
@TimeOutNewYork
Subscribe to Time Out New York on Spotify for playlists and recommendations from our Music team.


Check out New York's best restaurants, hottest street style, cool apartments and more.