Cause and effect
By Jane Borden Fri Nov 9 2007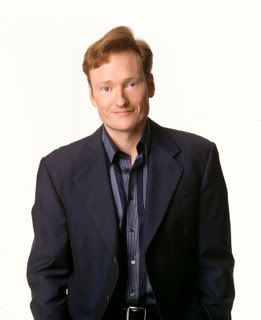 "Ladies and gentlemen, Howdy Doody is a real boy!"—Robin Williams

Last night, Stand Up for Heroes drew media moguls, comedy stars and dozens of decorated military personnel. It was an odd but fitting mix for an event benefiting the Bob Woodruff Family Fund, which assists injured service members, and is named for the ABC anchor whose envoy was struck by an IED while on assignment in Iraq.
Conan O'Brien hosted, deftly turning what started out as a tearjerking tribute to the armed forces into a very funny—and blue when Robin Williams took the stage—night of comedy.
Beyond the jump, find (1) jokes and red-carpet quotes about the writers' strike—including one from CBS CEO and president Les Moonves (for more coverage on the struggle, read these funny quotes from picketing late-night-comedy writers), (2) the price someone in the audience spent on Bruce Springsteen's Harley, (3) a little-known fact about Larry King's line of duty and (4) why Conan is one of the funniest human beings alive.

Quotes from the red carpet…
•O'Brien on how his show is different from the benefit he was about to host: [What we do is] so absurdly silly—the point is that there is no point. Tonight, there's a point.
•Lewis Black on his trip to Walter Reed: These guys show so much more courage and guts [than you or I]. You can say it 24 hours a day until you drop dead and you couldn't say it enough.
James Bane, a 27-year-old from Tennessee who just got home from Al Anbar, interrupting to speak to Black: Watching your DVDs reminded us that there was a world outside of Iraq.
•O'Brien on the strike: I support my writers; I want them to get whatever they can. We hope it gets resolved before we have to start laying off staff. It's a pretty empty office right now—so we've taken to running around naked.
•Black on deciding to continue production of his Comedy Central show: Part of me doesn't want to cross a picket line, but the other thing is, I'm creating 12 to 15 jobs.
•Les Moonves after I asked if he'd like to comment on the strike: Nope.
Journalist standing next to me: In case you didn't catch that, he said, "No."
Me: Actually, I'm pretty sure there was a p and e at the end of it.

Other notable New Yorkers spotted…
Joe Torre, Police Commissioner Ray Kelly, Diane Sawyer, James Gandolfini, Greta Van Susteren and Steve from Sex and the City (sorry, David Eisenberg, but it's funnier to use your character's name).
Best jokes from noncomedians…
•Lee Woodruff: (1) We called him Half Head. When he lost his keys, I'd say, "What? Do you have brain damage or something?" (2) Tonight is not about blame. But there is somebody I blame for Bob's injury: Stephen Colbert.
Bob Woodruff, after Colbert leaves his seat, approaches the stage and reaches for a mike: You don't have a response, your writers are on strike!
•Bruce Springsteen's only joke that didn't come from his kids: A guy goes into the doctor's office and the doc says, "You gotta stop masturbating." The guy asks, "Why?" And the doc says, "I'm trying to examine you."
And the winner is…
After Springsteen's performance (three songs, including "Thunder Road," during which half of the audience crooned along in spontaneous unison), an auctioneer from Sotheby's named Hugh Hildesley (after saying his name, O'Brien quipped that it is "actually one of the lesser-known Gilbert and Sullivan operettas") took the stage to hawk the Boss's Harley. Bidding started at $2,750 and ended at $80,000. One assumes that every time its new owner asks a friend to hop on, he'll say, "Wrap your legs 'round these velvet rims and strap your hands across my engines."
The entertainers…
Brian Regan won the audience with a fantastic and fantastically clean set. Then Black came out with a trademark political rant—and strong case for electing Santa Claus to the presidency. Finally, Williams delivered an underwhelming—though audience-inciting—manic set of material covering Larry Craig's bathroom-stall transgression and immigration policy, and requiring more accents than John Rocker ever dreamed of hearing on the 7 train; his funniest moment followed his introduction, when he pointed at O'Brien saying, "Ladies and gentlemen, Howdy Doody is a real boy!"
All performances were strong, but none could hold up to O'Brien's opening monologue, some of which we'll simply repeat verbatim:
I'm a comedian following "Taps."
I'm your host and my writers are on strike. Tonight's material came from Dixie riddle cups, fortune cookies and old Sanford and Son dialogue. You brave [service] men and women…if anyone has jokes, I'm paying cash; meet me in the alley.
The good news is, if [the strike] continues, there will be no third Deuce Bigelow movie. My mother wrote that joke.
This is so much better than an event I hosted recently called Remain Seated for A-Holes. My dad wrote that one.
Bob isn't actually the first reporter to be injured in service. Larry King was wounded while covering the War of 1812.
For more coverage of the New York Comedy Festival, stay tuned to this blog; for tickets to upcoming shows, visit nycomedyfestival.com. To donate or learn more about the fund, visit bobwoodrufffamilyfund.org.