DNC 2008: Day 2
By Colin St. John Wed Aug 27 2008
Tonight, it seemed that things started to come unhinged a little bit. Certainly, Hillary gave a convincing speech and did as good of a job as she could have to convince her supporters to vote O, but the realist in every objective observer knows that there's just no talking sense to some of these fringe Hill-Bill-ies. With that said, one thing the Democrats did extremely well tonight was kick John McCain and kick him over and over again.
When I say things sort of fell apart tonight, I point first to the security. There were definitely more people on Day 2 than Day 1, but, yeesh, did I really have to wait over an hour to get into the Pepsi Can?
Once inside, it was great to see former Denver mayor Federico Peña at the podium:
My buzz was killed when spinster-fuckwad extremo Terry McAuliffe entered within 100 feet of me. Put me down for a restraining order.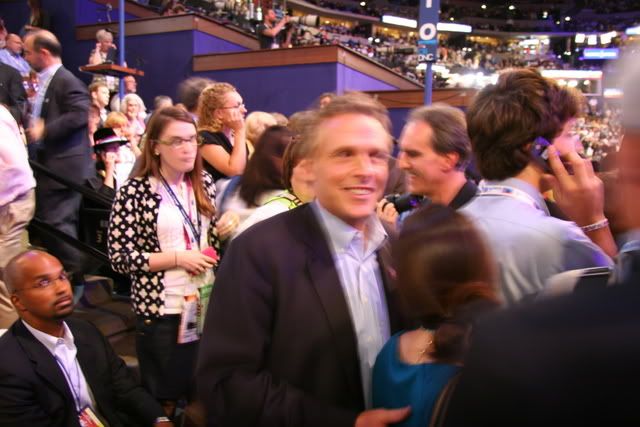 Weirdest celebrity sighting of the night? Kal Penn (Kumar/outspoken Obama supporter) working floor security:
Second weirdest: Matthew Modine.
New York represent! Rep. Nydia Velazquez (the first Puerto Rican woman elected to Congress) was given a prime speaking slot.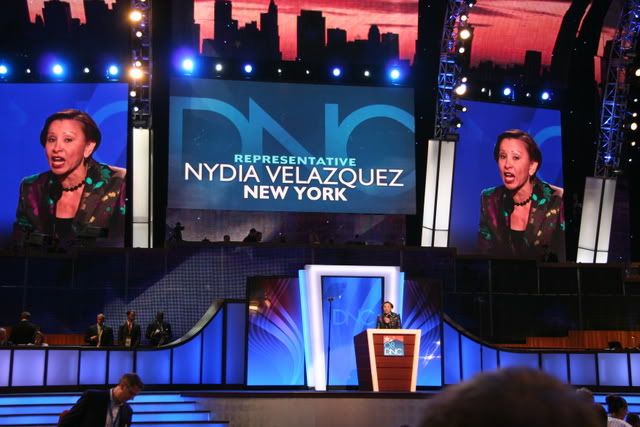 Rep. Charlie Rangel drew large crowds everywhere he went:
And Sen. Chuck Schumer continued to schmooze the New York crowd chomping at the bit for his colleague Sen. Clinton's speech.
Sen. Bob Casey did as good of a job as he could to deliver Pennsylvania for Obama in the primary, but even though he couldn't do that, he did fantastic partisan work of knocking John McCain and, at least, looking like he cared what his constituents were concerned about.
Former Gov. Mark Warner (VA) was given the keynote address, but, in this man's humble opinion, he was but a weak intro to Gov. Brian Schweitzer's (MT) rousing oration. Most of what you'll read about in tomorrow's papers is Hillary's call for unity, but Schweitzer's humble, Western and exceedingly genuine job (focused around energy innovation) was stirring. In this case when I say "unhinged" I mean it as a compliment. Oh yeah, and he served McCain a sloppy sandwich, too.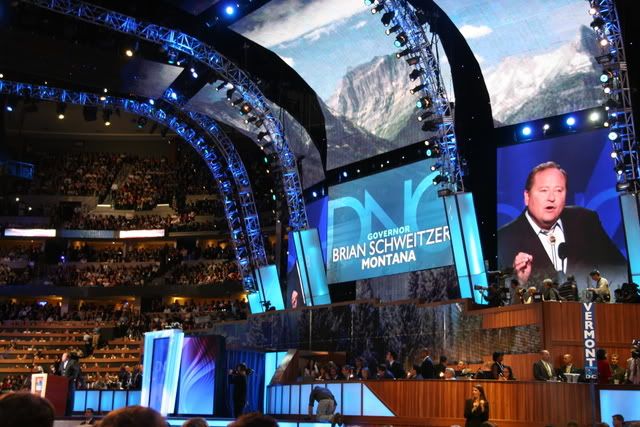 Rep. Jim Clyburn (SC) enthralled:
Perhaps even more fun, exciting and interesting? The crowd. Check 'em out:
The exact opposite (boooooring) and totally plasticine? The media (besides me, of course). Another note: It was right before Schweitzer's speech that the Secret Service shut down access to the Convention floor. I lucked out as I was already down there, but considering the increasingly tight quarters (and I'm talking about a nun's asshole being looser), we'll see if I can make it down there tomorrow.
Schweitzer's speech was momentarily interrupted by President Bill Clinton's arrival. It's a goddamn shame, too, because I can already feel this guy's accomplishment flying under the radar….and, no, I'm not talking about Bill.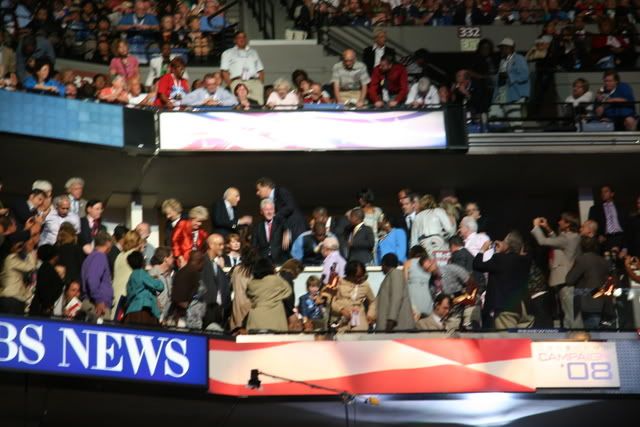 Chelsea introduced her mother after a pretty weird video that I think was put together by somebody on acid or with the attention span of an ADHD clinical study. Either way, yes, what you've heard is true: Hillary Clinton wants you to vote for Barack Obama (or at least is doing an increasingly better job of faking it). Will her supporters actually heed her words? That remains to be seen.
After the convention, my mother and I attended the Irish-American Democrats shindig. It was a grand old party and the highlight was no doubt Gov. Martin O'Malley's (MD) speech about the unity that Irish-Americans and African-Americans have forged over the decades and how it relates to electing Barack Obama…but, yeah, blah blah…he just wanted to get drunk and so did the rest of us.
More to come from Denver…