Don't tell the oatmeal!
By Alison Rosen Tue Aug 21 2007
I've been hearing about Dustin Goot's oatmeal eating for a while now, as he never misses an opportunity to plug his little flaky friends, going so far as to dump them into the disgusting wine abortion he made us suffer through. Okay wait, actually I guess he dumped them into the beer he made, not the wine he made, but you get the idea. He's so associated with oats in my head that it's gotten to the point where I'll be at the grocery store and I'll see oatmeal and remember things I need to do on the blog. If you cut Dustin, he bleeds Wilford Brimley. When Dustin looks in the mirror, a small Quaker man looks back. So anyway, you can imagine my surprise when I looked over to Dustin's quasiorganized desk (trusty oatmeal bowl and oatmeal spoon in their standard place, though) and saw this: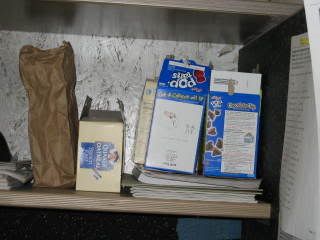 Dustin cheats on oatmeal and doesn't even have the decency to hide it.
What the hell? He's cheating on his oatmeal! And not even with some muesli or Grape-Nuts or gravel, which is what Grape-Nuts tastes like! I kind of want to get to the bottom of this but I just don't know if I'm ready to hear his sorry rationales. Who weeps for the oatmeal?
Write your own review