Fashion Week: Max Azria
By Lucy Quintanilla Wed Sep 10 2008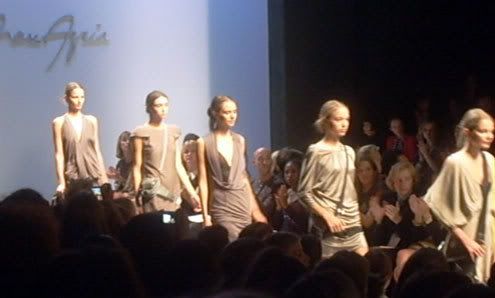 At the Max Azria show, lightbulbs flashed at a blond woman that no one near me recognized. I asked the person next to me if she could ID the celeb and her response was priceless: "It's probably Anna Wintour's scullery maid." See, not all fashion show attendees are
fashholes
. I had just about given up on seeing anyone famous (the entire reason I came out) when Natasha Bedingfield was trotted out. Eh, does she even count?
The show itself started promptly a half an hour late. Flowing dresses glided across the stage in bright colors, yet two other things caught my eye. First, they're showing a lot of gray, neutrals and blacks, but the fabrics are so floaty and light that it almost seems like the models are not wearing clothes. Would I wear this? Nope, but it looks cool. Second, there are awesome bags: low-slung messengers in muted colors and even some fanny-pack-esque bags with shoulder straps. I've spotted a few other tourista-style bags during the week, and it looks like I'll have to dig out my '80s-era neon pink one next spring.
Another minitrend was the music: This was the second time I heard "Repetition Kills You" by the Black Ghosts during a show. Someone needs to hit shuffle on the iPod, stat.
Full Fashion Week coverage: timeoutnewyork.com/fashionweek