Fashion Week: The Project Runway finale: Heidi! Tim! And a J.Lo no-show! We were there.
By Michael Freidson Fri Sep 12 2008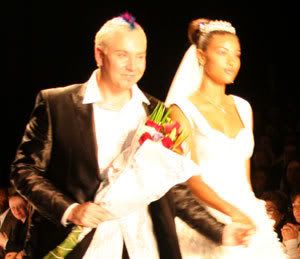 What hits you, sitting in the Bryant Park tents for The Project Runway finale, is that, despite this season's playing-to-the-cameras cast, the show is built on real people. Stars from seasons past and present mingled about, but looked more vulnerable than on TV: Kenley had a scratch on her leg, Suede has bad skin and Blaine doesn't add -licious to every word. "Everyone says it back to me. What have I done?" he asked.
Six designers showed this morning, but only a few were actual finalists (it's a secret!) and only one will win (that's a secret too). Here's a preview from the second row, with photos of the models also featuring (a) some guy's shoulder, or (b) Gossip Girl star Michelle Trachtenberg's head.
I. Heidi!
The host introduced the show with a bombshell: Guest judge Jennifer Lopez dropped out yesterday—citing a "foot injury"—but she'd be replaced by…Tim Gunn! "I've never been a judge before," he said, adding he'd put his love for the designers on a "metaphorical shelf" to be objective. After a goodbye to Bravo—and a kiss for producer Harvey Weinstein (blamed for moving the show to Lifetime but apparently forgiven by Heidi)—Klum started the show.
II. Jerell

You know how this likable guy always talks in "quotes" without saying anything of substance? His line was equally jovial and equally empty. A mélange of tortoiseshells, greens and browns (with a few purples), the looks shared a unified color scheme, but where was the vision? Worse, the gowns didn't move with the figures (we also noticed a few strings dangling; Nina won't like that).
Chances of winning: none. But he could be an in-demand designer for C-level stars at small-time film fests or club nights.
---
III. Suede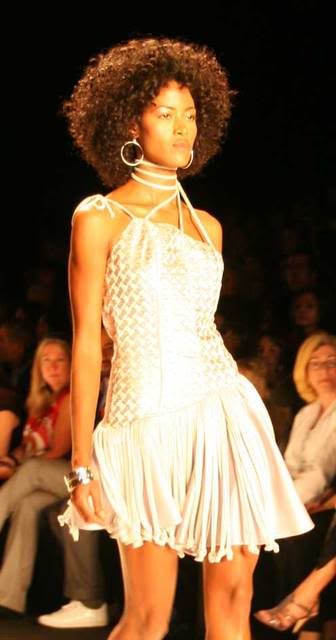 Suede—yes, he referred to himself in the third person—announced he was taking "linear to the next step." The next step is apparently "making thatches."
Chances of winning: Michael thinks Suede won't win, and Michael is rarely wrong. Michael, Michael.
---
IV. Joe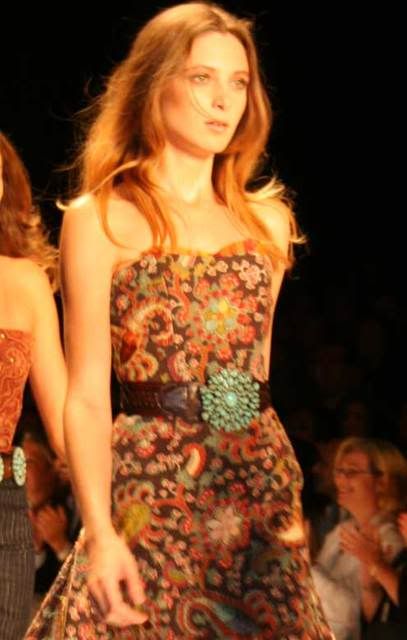 The "straight guy" lived up to his meat-and-potatoes family-guy rep, inspired by "America—Western, motorcycle and rock & roll." While that sounds a little like the young-boys section of Sears—"American Eagles and skulls are cool, Mom!"—it actually worked. Some looks had a Navajo feel; others a Vegas-gone-wild one, with one striking pair of pink denim pants with an ace-of-clubs pattern. Chances of winning: The energy in the room changed. Joe made tacky chic. He could be the one, despite the goatee.
---
V. Kenley

Inspired by Alice in Wonderland, Kenley's looks—well, I'll just stop there and let you figure it out. The inspiration is derivative, with feathers and quirk and New Year's Eve headgear. You've seen this stuff before—most recently on last night's show, when she created that Tweedledee costume for the Zodiac challenge. Chances of winning: The audience got into the quirk, but I bet Nina and Michael won't be smiling.
---
VI. Korto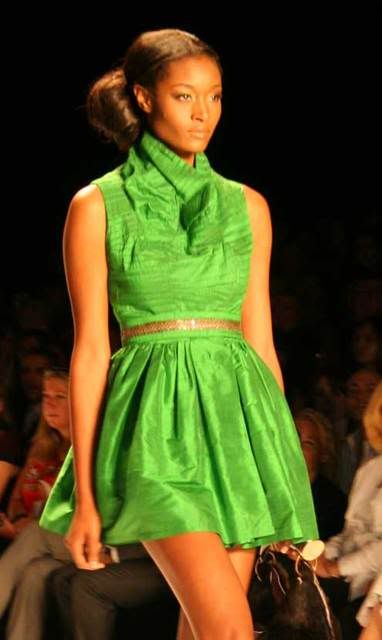 Lemme look at my Michael Kors–inspired notes: "Simple, simple, simple." That hurt to write: Korto's been strong and, as in previous challenges, was here influenced by her African home. But this tasteful line (with greens, yellows and no wow) looked like stuff from Nigeria's classiest Banana Republic.
Chances of winning: a place in my heart? Very high. Congratulations, Korto!
---
VII. Leanne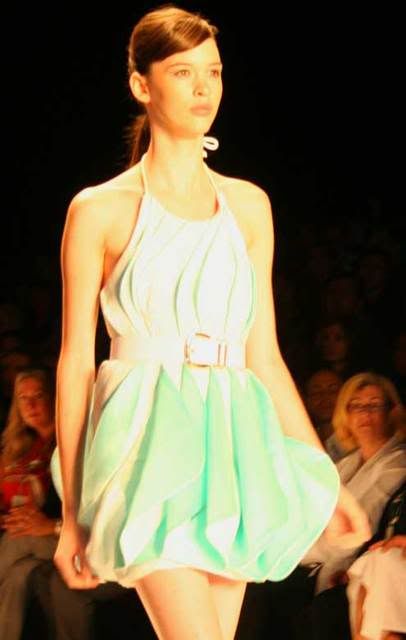 The sleeper hit of the season, this quiet dweeb (who mumbles every word) brought the most elegant line. Most featured a simple draping, but something about the curves just hit you—it was beautiful. Like, not "hot model" beautiful" but "pure art" beautiful. The head-in-my-way Michelle Trachtenberg agrees: "I like Kenley, but Leanne has some amazing stuff. It'll be between those two," she says. Chances of winning: She better. In a season full of wanna-be catchphrases and little actual drama, we're happily surprised. Leanne's just so…real.
---
The Project Runway two-part finale airs Oct 8 and 15 on Bravo.