Five things I learned at the tribute to Mike DeStefano
By Matthew Love Thu Nov 10 2011
---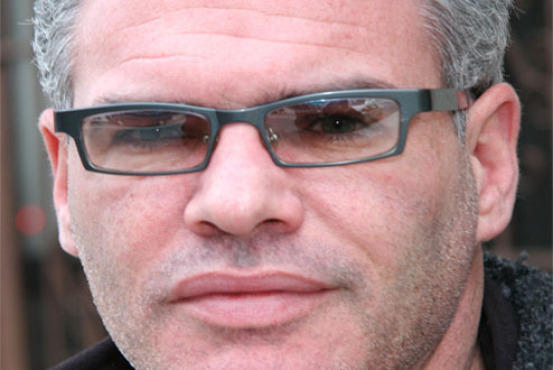 Mike DeStefano
Comics, friends, family members and fans gathered at the Tribeca Performing Arts Center last night to remember Mike DeStefano, the forthright stand-up whose comedy channeled his rough upbringing, a heroin addiction early in his life and an AIDS infection. Here's just a portion of what we found out:
1. For a stand-up, a laugh is a good tribute. This night had many. Kurt Metzger, who recently got a $200 ticket for jaywalking in California, likened the cop who gave him the ticket to someone else "who was just doing their job": a guard at Auschwitz. Then, as though contemplating the severity of his statement, he revised: "No, not even Hitler would charge someone $200 for jaywalking."
2. Comics remember DeStefano in their own way. "Anytime I miss him now, I tell a crowd to go fuck themselves," said Mike Vecchione. (Immediatlely afterward, he said, he follows a guy out to the parking lot, punches him in the face and goes home to have chocolate milk.) Eugene Mirman read an e-mail from DeStefano, which he wrote just a few weeks before he died to thank Mirman for hosting him on a show: "If or should I say when you get AIDS, I will be there for you."
3. Exaxperation and/or defeat can really fuel someone's funny. Robert Kelly, who had the night's best set, won over the crowd quickly, playing on his insecurities about his weight, his relationship with his wife and his seeming ease with his mortality. When talking about his crushed dreams and his lack of friends, he moaned, "What are you going to do, take away my birthday? It's all I've got left!"
4. Time in Attica will teach you how to take evasive maneuvers. Joe DeStefano, a man who looks and sounds remarkably like his brother, was often mistaken for Mike when Mike began to get on TV. At one point, he met a woman Mike had wronged (for fans, it was the woman who Mike "punched in the pussy" when she asked him to to do something that would make her remember him). The woman attacked him with an umbrella, and apparently only the reflexes he developed in the penitentiary helped him duck out of the way in time.
5. Everyone should look forward to the doc being made about DeStefano's life. The tribute montage at the end of the show was so well produced, we're inclined to think it's part of the work-in-progress about DeStefano. It featured clips we'd seen—and some we'd not—alongside portions of DeStefano's final, revealing show, Drugs, Disease and Death: A Comedy.