Hey, Howard Halle: You Gonna Eat That?
By Alison Rosen Fri Jun 8 2007
Editor-at-large Howard Halle sits in the pod abutting mine, used to work in various capacities in the Art World and once had a crazy dog that he had to return to the shelter. Sometimes when he leans back and stretches out his arms he snaps his fingers, but I'm not sure he's aware of this. (Now he is!)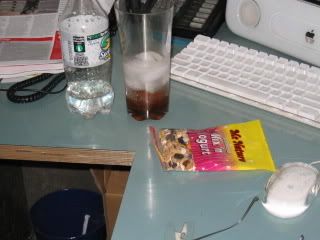 From left to right: Sprite Zero, cup of ice that appears to have diet soda in it but is really just a weird brown-bottom cup and "the uranium of food."
What are you about to enjoy over here?
Mr. Nature unsalted mix and yogurt
It's a trail mix, right? Have you had it before?
Oh yeah, often
What do you like about it?
I like the yogurt chips.
Do you have a least favorite item?
Maybe the sunflower seeds. I'll eat them but they get stuck in your teeth.
Do you eat it by the handful or pick out what you like?
I eat it very slowly, piece by piece, but I don't put anything in any particular order. Well, maybe I try to intersperse the yogurt chips' sweet goodness but I don't eat them all at once. I try to mix the salty and the sweet because it also has raisins in it. I mean, if I have a strategy and I guess I do, that would be it.
Do you feel raisins are nature's candy?
They're not nature's candy. They're dried, aren't they? They're dried grapes.
I believe you're right.
I feel that sticking your hand in your buttocks is nature's pocket.
That's where I keep my loose change! And my keys! Now what are you washing this down with?
Diet Sprite. I believe you know about my ice habit.
I do.
I'm afraid since I've given up pretty much everything else in my life, drugs, cigarettes and alcohol—well alcohol, no, but I don't drink that much. Ice is it.
Ice is your vice?
Chewing ice is. It's annoying, I know. It annoys my family when I chew ice but I just don't care because you gotta have something.
You do have to have something. Now, would you eat this on a trail?
Sure. It's definitely a lot of fast energy in a small volume of food.
It's the opposite of salad.
It's kind of like the uranium of food.
Out of six stars how many would you give this snack?
Honestly? Three.