Hey, Kate Lowenstein! You Gonna Eat That?
By Alison Rosen Tue Oct 16 2007
Associate features editor Kate Lowenstein sits in my old desk and works my old job, but whereas I used to make a lunch of cardboard and old shoes, she eats gourmet meals off of real plates. She's a member of this annoying club that walks around the kitchen like they own the place because they've learned how to share and how to coordinate and there's no rutabaga in team and stuff. Also, she's a pretty decent writer and editor, and she won the Ikea bookcase challenge and Russell Simmons's heart.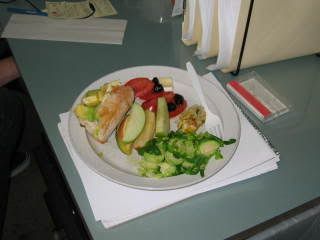 Colorful; silently judging you
What are you eating here, Kate?
A very colorful and healthy lunch from the Lunch Club. It consists of some steamed brussels sprouts—
I can smell them.
Yeah, I'm sorry. They don't actually taste so good; they taste a little soapy. Then I have a little sliver of squash filled wtih quinoa that Gabriella's mother made, which is great because she's a chef and caterer, and some tomatoes from Jane Borden with champagne vinegar and olive oil, and olives and Brie cheese from Jay Muhlin, then some bread, avocado, Brie and turkey assembled by the Lunch Club. And some colorful apples from Tom Lamont.
Do you think you're better than us because you eat fancy food?
Maybe just luckier.
You are aware that most of us eat crap, right?
I guess. You guys order from Pump sometimes, that's not crap.
Yeah I guess so. How does this club work?
We each bring a different item each day. It actually started by accident. I had some greens and Gabriella had a can of beans and neither of us had a full lunch, so we combined forces. We sort of insist on not planning ahead of time; sometimes that backfires—we ended up with, like, five heads of broccoli and nothing else last week, but for the most part it works well.
What if someone brought in a bag of Cheetos?
We'd all be really happy, probably because I think we all try to be really healthy and bring in raw vegetables, but when someone brings in the rare junk food item we're relieved.
If someone got food poisoning, who would you finger?
That is something I really worry about. I'd probably blame myself and feel guilty about it.
How do people get in?
Just bring something and you can join us! Bring a can of beans and you can join us tommorrow.
Doubtful. Out of six stars how many would you give this meal?
I'd give it a five out of six every day.
Write your own review