Hidden NYC apps
By Alexandra Finkel Wed Aug 3 2011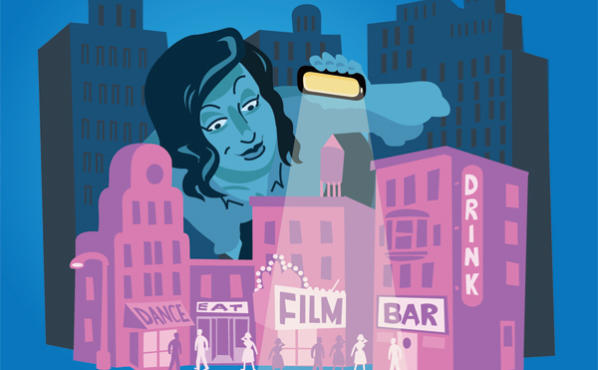 Illustration: Nick Bertozzi
Glean insider info from these smartphone tools that help you explore the city.
CultureNOW
What's the deal: You can stroll the city while listening to one of the location-specific podcasts by top historians, architects and artists, or scrolling through the app's comprehensive database of public art and cultural institutions. But the real gold mine is its walking tours of areas like 125th Street and the Financial District that come complete with a map and audio guide explaining the history behind each spot.
What you'll learn: That the Charging Bull on Broadway weighs 7,000 pounds and was created in 1989, in addition to hundreds of other facts.
What it's good for: An afternoon walking through a new 'hood—or learning a bit more about your own. Available for iOS and Android. $1.99, Lower Manhattan iOS version free.
Google Goggles
What's the deal: Snap a photo of just about anything (a landmark, restaurant or even a piece of artwork) and the app will identify it, then google it for you—plus, if you run across an address or phone number you want to remember, Goggles will import the relevant text to your address book.
What you'll learn: Quick answers to any questions you have. The app will even translate non-English signage or menu items for you.
What it's good for: Saving your thumbs some work when you come across a new favorite painting at the Met. Available for iOS and Android. Free.
iParks NY
What's the deal: Make the most of summertime with this app that compiles essential information about NYC parks and green spaces. It's not fancy, but the simple interface accurately maps each spot's location and provides a description of the facilities, as well as any upcoming events.
What you'll learn: The best spot to read a book outside in midtown (we like GreenAcre Park on E 51st St between Second and Third Aves), where to find the nearest sprinkler to run through and when to catch a SummerStage performance.
What it's good for: Going a few blocks out of your way to survey a new leafy respite. Available for iOS. $2.99.
Museums NYC
What's the deal: The five boroughs are home to more than 100 museums, yet you've probably only been to a handful. Use this app to find details on destinations such as Museum of Comic and Cartoon Art (MoCCA) or Nicholas Roerich Museum.
What you'll learn: All the basic visitor information (hours, address, prices), but this app really shines through its Free Museums category—it displays info on which institutions have gratis admission each day.
What it's good for: Making a low-cost visit to worthy spots such as the Museum of Arts & Design (which is pay-what-you-wish Thursdays 6--9pm). Available for Android. Free.
Real Pizza of New York
What's the deal: There's nothing more painful than craving pizza at 2am and settling for an unsatisfying, greasy slice. This app rounds up creator Jeff Orlick's favorite pizzerias and provides a wealth of info on each, including history, location, hours, and, of course, glamour shots of the pies.
What you'll learn: The location of the original Ray's (it's at 27 Prince St) and other insider tips. The app also highlights promotions and discounts, such as Bravo Pizza's boast that they'll swap your slice from any nearby competitor with one of theirs for free.
What it's good for: Not eating day-old cheese-topped cardboard. Available for iOS. $4.99.
Sportaneous
What's the deal: You're interested in playing Ultimate Frisbee, but finding a time that works for everyone is impossible? Sign in to this app, which aims to connect you with people in nearby parks who are up for playing group sports. You can register for a game that's already set up or propose your own session of basketball, volleyball or even yoga.
What you'll learn: That the soccer game happening across the park needs another midfielder.
What it's good for: Exercise that isn't tedious. Available for iOS. Free.
TranquiliCity
What's the deal: This app finds you the most peaceful spots in the city—gardens, quiet restaurants, open lobbies, meditation centers and more. Each location comes with a short review, a picture of the space, hours and entry cost (if any).
What you'll learn: That quiet havens such as the New York Earth Room, a massive dirt sculpture that fills a Soho loft, or Elevated Acre, a rooftop park with fantastic views of the New York Harbor, are right next door.
What it's good for: Finally taking a minute for yourself. Available for iOS. 99.