Interview: Violent J of Insane Clown Posse
By Drew Millard Mon Oct 24 2011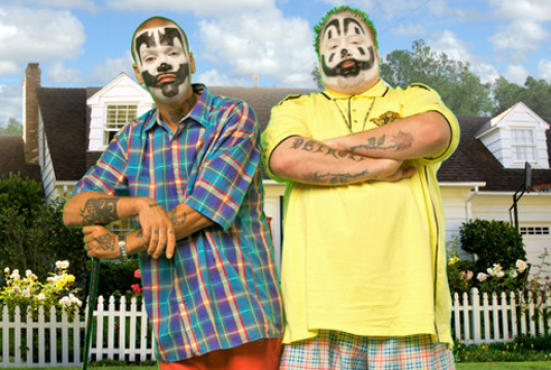 Photograph: Courtesy of Psychopathic Records
With Shaggy 2 Dope, Violent J comprises the infamous hip-hop duo Insane Clown Posse. Despite maintaining that they're "the most hated band in the world" these recent unlikely Jack White collaborators enjoy a rabid fan base of so-called Juggalos who religiously buy the band's music, attend their concerts wearing the band's trademark face paint and immerse themselves in the Posse's "Dark Carnival" mythology. On the eve of Tuesday's ICP concert at Hammerstein Ballroom, Violent J spoke with TONY via phone about the best barbecue joint in New York, his favorite pop music, and why he loves getting Faygo soda poured on his head by his son.
How often does ICP come to New York City?
Pretty often. We don't play there very often, but we come there a couple times a year, at least.
What do you like to do there when you have free time?
Virgil's Real Barbecue on Broadway and 44th. Devastating. We've been going our entire lives, ever since we signed a deal with Jive Records in 1995. We signed the contract, and we all walked to Virgil's and got barbecue.
How do you feel about Occupy Wall Street?
I don't even know anything about that. I don't know what that means. What is it?
It's a bunch of kids who don't have jobs, who camped on Wall Street and are basically saying, "You guys messed up the economy. We want this to be fixed."
And they know how to fix it? The college kids?
Not really. One of the things that's really controversial about them is that they're saying, "We're really mad, and we don't have any solutions to this."
I don't know what to think about that, man. Shit, everybody thinks they know what's best, and it's just like with anything: It's easy to pick on what everybody's doing when you don't have a better idea, you know what I mean? Yeah, things are fucked up, but until somebody's got a better idea, that's what we're stuck with.
Who are some contemporary artists that you guys admire?
Contemporary? What's that word mean?
It just means "modern."
Oh. Well, I like R. Kelly, Foster the People—I like them a lot, and my kids like 'em too. I don't really listen to too much new stuff these days. But check it out: In the morning, they've got this thing on MTV they call AMTV. I see some dope shit on there. That's all I'm sayin'.
Odd Future, I think they're cool. I don't fully get them musically, but I get the gimmick. I get the idea of "Wolf Pack" and all that shit they're doing. I've got Tyler, the Creator's album, and it's full of wicked shit. They're not doing anything I haven't been doing for the last 20 years. The exciting thing is they're being revered for doing what we do, you know what I mean? People are calling them geniuses.
Other people out today... I like Black Eyed Peas. I think they're the shit. Just so dope. Just that one where it's like, [Singing] "I... had... the time of my life," and then it switches up and it's like "DSHT DSHT DNT DRNT!" That's fucking dope as hell. My kids listen to Kidz Bop, you know what that is?
Yeah.
I get to hear a lot of these songs through Kidz Bop, and then I end up getting the real version because I dig 'em through Kidz Bop. That's how I found out about Lady Gaga.
I think Lady Gaga is cool, but she's just your typical pop singer. Some of these artists might look crazy and do different things, but when it comes to the music, it's just pop music. There's nothing crazy about it. It doesn't reflect the way she looks or anything, know what I mean? I like Britney Spears—I mean, I don't bump her shit when I'm driving or anything, but I have no problem with her.
Was there a time when you guys wanted to be on the radio?
In the beginning, yeah, but now we understand things and we wouldn't change anything. When you're on the radio, you have to come off the radio. You don't get as old as I am without getting to know one thing: Time is a motherfucker. You might be having the hottest summer of your life, but that summer is going to come to an end. Even when you sleep, time keeps going. Time goes when you stub your foot; time goes when you're eating; time goes when you're fucking. Time don't stop goin', man.
Can we talk about Faygo?
Yeah.
How much Faygo do you guys spray on the audience at a show?
I would say about 400 to 500 two-liters per show. It depends on the stage. If it's smaller and you don't have to walk four steps to get to the Faygo, then you end up throwing way more. But if you're in a big amphitheater, you tend to throw way less. So it kind of changes based on that.
Where do you get it? Do you have a truck that you go around with?
Yeah. We gotta keep the Faygo flowing, so we refill the truck once or twice a tour.
You play a special Halloween show every year. Do your kids come to that?
Nah. They'll come see us, but not on Halloween because they like to eat all their candy and go to sleep. So I do the trick-or-treat thing with them—I always go as myself because I have to head down to the show—then I go play, and they eat their candy. I bring my kids on the road all the time, though. I bring them onstage and have them throw Faygo at the end of the show.
How do they like that?
They're only six and four. My daughter, Ruby, doesn't like having soda pop on her skin. My son, JJ, he's a natural! I'll hoist him up on one arm and he'll be pourin' Faygo on his daddy's head while I'm performing!
The first time we ever brought JJ to see us, he was on the side of the stage and I didn't know how he was gonna take the whole concert with the clowns and the monsters and the lights and the crowd and stuff. So he's on the side of the stage with his mom, and I'm keepin' an eye on him and he's crying, and I'm thinking, Aw, he's probably scared to death; she should just take him back to the dressing room. But at the end of the show, he comes out just as planned and starts throwing Faygo! Turns out he was crying because he wanted to come out onstage before the end of the show, [Laughs] and his mom wouldn't let him. JJ loves the shit. Right from day one, he wanted to be out there.
You were saying you go out on Halloween as yourself. Do people ever come up to you and say, "Man, you look just like the dude from Insane Clown Posse"?
No, they know it's me. There's not too many 350-pound clowns lookin' like me out there. [Laughs] All my neighbors know it's me.
Do you still live out in Detroit?
Nah, I live in a place called Farmington Hills. I moved out there way back in the '90s.
Why did you decide to move?
You can't live in Detroit, man! People hate each other. It just don't work like that. People know who you are, where you live, take your shit, try to kill you, all kinds of shit. It's fucked up.
What were you and Shaggy for Halloween as kids?
Honestly, we were such scumbags. I don't know what I was when I was JJ's age, probably a pirate or something. Later in life, we'd just put on some bullshit. Like a ghost. Or a ninja. You'd do this ninja tactic with a white T-shirt where you wrap it around your head. We wanted to go out to get candy. We were such bums. We never went to parties or anything like that; we just threw on a costume and went out. We trick-or-treated probably till we were 17. We were so lame.
Share your thoughts