L Yeah!
By Beth Greenfield Fri Jan 4 2008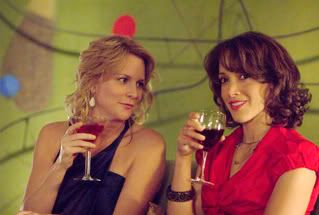 What does early January mean to me? Not deep freezes, not tenuous resolutions and not, god forbid, Iowa. No, it means The L Word! Sad but oh so true. The first episode of Series 5 airs this Sunday the 6th, but I've already seen quite a handful of the screener DVDs—the sweetest LGBT-editor perk there is—and it is fanfuckingtastic! Don't worry, there are no spoilers here. But I will say that it's the best season yet, and one that had my GF and I passionately (and pathetically!!) discussing the unfolding drama for days, as if Bette and Tanya and Jenny (Eew!) were our lifelong pals. This season's success is largely due to some tight, clever writing and smooth directing—especially from show producer Angela Robinson, the awesome lezzie talent behind D.E.B.S. (2004) and Herbie Fully Loaded (2005). Ilene Chaiken herself also chimes in with some great episode scripts. But the best part of the show, of course, is the endless drama and steamy crimes and misdemeanors—including cheating, arson, stealing, jail sex, gunfire, pot-brownie scarfing, the breaking of military penal codes and underage drinking. Not to mention some crazy oil wrestling.
Anyway, stop being such a cheap dyke and and order up Showtime by 9pm Sunday! Or just head out and watch it on someone else's cable dime, either at Wanda's Starlette Sundays bash or at the Official L Word Premiere Party, at Pacha, unfortunately cosponsored by the done-trannies-wrong Human Rights Campaign, which is hosting a whopping 43 other such premiere parties at lesbian bars across the country that night, from P-town to Nashville.