Live review: Ryan Adams at Carnegie Hall
By Andrew Frisicano Wed Dec 7 2011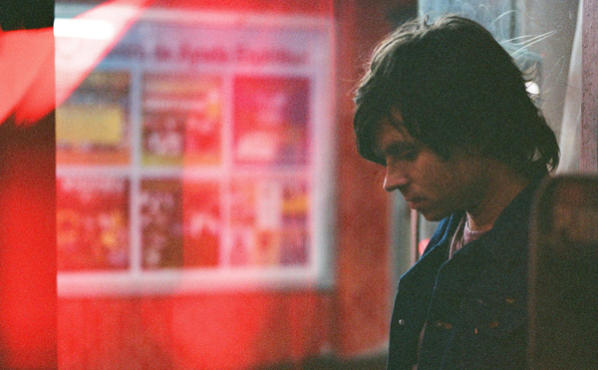 Ryan Adams Photograph: David Black
Until Tuesday's Carnegie Hall gig, Ryan Adams hadn't played a New York City show in a little more than three years. In that time, the songwriter got married to Mandy Moore, moved from New York to L.A. and recuperated from Mnire's disease, an inner-ear condition that affected his balance and hearing. He also managed to release three albums, including Ashes & Fire, which came out in November. That album—Adams's first without his backing band the Cardinals in more than five years—is a tidy, cleanly recorded collection about redemption. The opening line, as the TONY concert preview notes, sums up his new POV pretty succinctly: "Last time I was here it was raining, it ain't raining anymore."
The renewed focus was apparent at Carnegie Hall, where Adams played to a sold-out crowd. In a former life, the singer would have had torn through a bottle or two of red wine, but the strongest stuff on stage Tuesday night appeared to be a mug of tea. Sitting center-stage with his Buck Rogers model acoustic, Adams cleared any lingering doubts with his opening number, an eerie version of Heartbreaker standout "Oh My Sweet Carolina."
Truthfully, he seemed a bit nervous at first—maybe startled by the roaring applause. He mumbled a quick thanks and then moved on to the new album's title track, a slide-guitar-laced gem that's one of its best. The jitters evaporated after a few more songs, giving way to some grade-A stage banter, which lightened up the mood (Carnegie Hall tickets aren't cheap, after all).
The tangents were some of the most enjoyable moments of the night. One intentionally misheard comment ("That was beautiful," interpreted by the artist as "Howard's beautiful") became a two-minute jingle about an imaginary friend (Howard calls Adams the "alternative-country Danzig," after opening an interdimensional vortex in his dorm room). The impromptu song was surprisingly good, as was his "Thank you for coming to the show" ditty, which summarized night's in-jokes right before the closing number. From those quick-witted tunes, it's pretty easy to see how the guy winds up with reels of B-sides and unreleased songs.
As was expected, much of the set list came from Ashes & Fire, but the rest of material dug quite deep, with rarities such as "My Blue Manhattan" off Love Is Hell, Follow the Lights EP track "Blue Hotel" and a pair of Whiskeytown songs filling out the two-hour set. Several times Adams reworked a poppy, energetic song into a somber reflection. "Let It Ride," usually a rollicking country tune, became a fingerpicked dirge, while "New York, New York" was cast as a damaged piano ballad.
The latter, with all of its 9/11 connections, was the first time the audience got a look at the back of Adams's leather jacket, which prominently featured a a gaudy bright orange-and-yellow Iron Maiden logo. Later in the set Adams covered Ratt, pausing toward the end of the tune to announce that guitarist Warren DeMartini would be descending from the ceiling with a guitar solo any minute. Well-placed lines like that broke up the heaviness of the songs and of the stately venue. Like an old friend getting reacquainted, he seemed to open a bit more to the 2,800-strong crowd with each song.
"It's so weird being with you at this place," he said early on, a reference to both the city and the room. In a way, it was easy to see what he meant: A few years ago it would have been hard to imagine Adams performing on such a grand stage and doing it so well.
Set list:
Oh My Sweet Carolina
Ashes & Fire
If I Am a Stranger
Dirty Rain
Winding Wheel
My Blue Manhattan
Invisible Riverside
Everybody Knows
Firecracker
Let It Ride
Dear Chicago
Chains of Love
Please Do Not Let Me Go
Lucky Now
Two
Crossed Out Name
New York, New York
Howard Is Beautiful—-> Do I Wait
Jacksonville Skyline (Whiskeytown cover)
Round and Round (Ratt cover)
16 Days (Whiskeytown cover)
Thanks for Coming to the Show—>Come Pick Me Up
Encore:
Blue Hotel
Write your own review