Marketing update: Countdown to Eat Out '07
By Mike Rucker Tue Aug 21 2007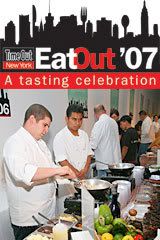 Say what you will about TONY editor-in-chief Brian Farnham, but the man definitely holds fast to his "principles," especially when it comes to so-called journalistic integrity. If I sound a bit miffed, well, I guess I am...although I will grudgingly concede that it's Brian's editorial ethics—as well as those of the entire TONY staff—that make our magazine what it is.
See, as marketing director, I wanted Brian to agree to do some shilling to promote Eat Out '07, our annual restaurant-tasting event, by having someone blog about it. To be fair, the event is curated by our fab Eat Out editor Gabriella, and the restaurants—40 of 'em—are winners or nominees of our annual Eat Out Awards. So it wasn't a totally left-field request. Brian was reticent, though, but, incredibly, he said I could do it, as long as I was very clear regarding my intentions.
Make no mistake, dear reader (I've always wanted to say "dear reader"), I want you to buy a ticket to Eat Out '07. Once again, we'll be at Skylight Studio, this time on Monday, September 24 from 6:30 to 9:30pm. We've got a slew of top-rate restaurants, including Maze by Gordon Ramsay at the London, the Waverly Inn & Garden, L'Atelier de Jol Robuchon, Craftsteak, Morimoto and many, many more. The drinks will be flowing thanks to Chopin vodka, Stella Artois, San Benedetto, POM Wonderful and Starbucks.
With all this incredible goodness going on, I really wanted to figure out a way to get my editorial colleagues into this promo blog, to help me fight the good fight by fessing up about how awesomely fantastic the Eat Out tasting event is. The question was how. Then, in much the same way that Lucy Ricardo was struck by a brilliant idea in each and every episode of I Love Lucy, I got one of my own: Why not turn the tables on my journalist friends by interviewing them about the event? To my amazement, Brian agreed to my scheme. Look for my conversation with him in my next post.
Until then, buy a ticket to Eat Out '07! Space is limited, so why not take a second and do it now, while it's fresh in your mind?
Write your own review