New York stories: Phosphorescent
By Matthew Houck Tue May 10 2011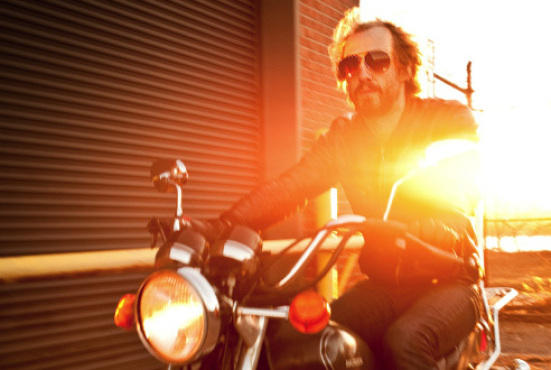 The rootsy rocker loves taking in the skyline---especially from his hog. Photograph: Sebastian Mlynarski
That New York City skyline is really something to me. Like, I've never been to Egypt or seen the Great Pyramids, but I imagine they evoke a very similar kind of feeling...in that it's such a grand display of human possibility. And you know, what's amazing is that time after time it doesn't stop being so majestic and impressive, even after you've lived in the city for a while and have seen past that illusion. I mean, I've stood on a subway platform at 4am and watched rats fighting each other to the death over a pile of human vomit, and yet still somehow every time I see that skyline it gives off the promise of some graceful, magic land.
There's a view from the BQE, if you're heading north and you're just south of Manhattan. I think that's one of the best. If you're lucky enough to be riding a motorcycle on that stretch at night, you're in for a real treat. And especially anytime coming back into town after a tour—when that skyline hits the horizon you just kind of can't help but sit there and be inspired and awestruck all over again.—As told to Tim Lowery
Phosphorescent plays a homecoming show at Brooklyn Bowl on Wed 11. The band's latest album, Here's to Taking It Easy, is out now.
Buy Phosphorescent's music on iTunes.
Write your own review