[SPONSORED] Visit Montreal: Festival International de Jazz de Montral
By Squirrog Sat May 21 2011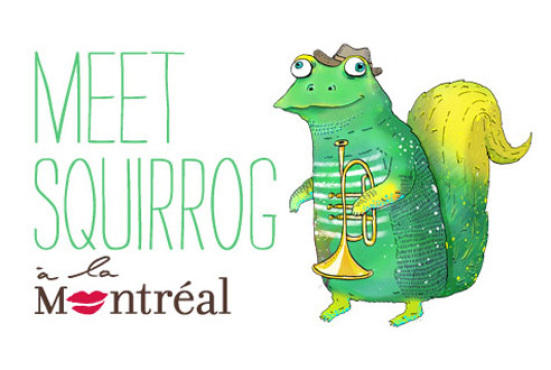 Hey what's up? Do you like jazz? I like jazz. One of the reasons I like New York City so much is because it has so many great jazz clubs. Do you play an instrument? I play the trumpet.
I'm in a band back home in Montreal, we're called "Squirrog and the Jazzholes." Do you think it's pretentious to have my name in the band's name? That's what some of my friends told me. But that's what all of the greats did, right?
Anyway, if you love jazz as much as I do, you should come with me to Montreal Jazz Fest (or "Festival International de Jazz de Montral" if you want to sound fancy).
Starting on June 25 and running through July 4, it's the world's largest jazz festival.
Can you believe it? The largest jazz festival in the whole world! For over 30 years, over 3,000 artists have come to Montreal to play on multiple outdoor stages and at various concert halls. It's featured shows from all of the greats—Ella Fitzgerald, Miles Davis, Ray Charles, and way, way more! With over 800 concerts on tap (a bunch of which are free), and 2.5 million annual attendees, you're guaranteed to have a rockin' good time.
Okay, okay, I'm getting carried away. I always get carried away whenever I talk about my favorite subject. Can you guess what my favorite subject is?
It's jazz!
Want to win a trip to see what Squirrog is so excited about?
Visit winatriptomontreal.com to enter to win a trip to Montreal to check out the Montreal Jazz Fest for yourself. You'll get two round-trip tickets and hotel accommodations.
Want to meet Squirrog in person?
Squirrog will be hanging out in Union Square on 14th Street between University and Broadway today, Saturday, May 21 from 9am to 6pm. Be prepared: if there's one thing he loves more than jazz, it's asking people questions. Maybe he'll play "Getting to Know You" on the trumpet.