Thanksgiving weekend's must-see concerts
By TONY Music Wed Nov 23 2011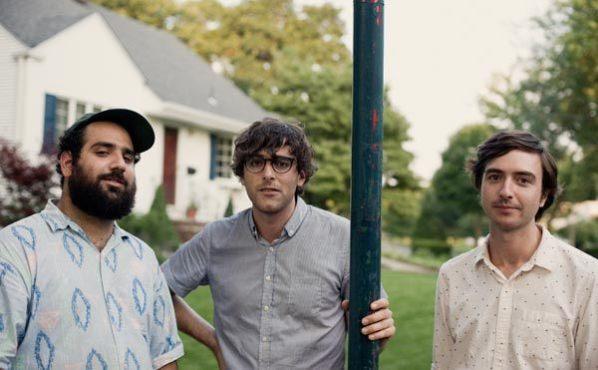 Real Estate Photograph: Shawn Brackbill
Wednesday
Real Estate + Big Troubles + Liquor Store at Bowery Ballroom
Rightfully buzzed-about New Jersey--Brooklyn quintet Real Estate headlines the Bowery Ballroom tonight, plugging its new LP, Days. Get excited about hearing brand-new songs live, and read our live preview here.
M83 + Active Child at Music Hall of Williamsburg
French synth-pop whiz Anthony Gonzalez (Monsieur M83) explores his childhood on a soaring new double album, Hurry Up, We're Dreaming. Having toured with Kings of Leon and Depeche Mode, he's now ready to take center stage, so expect fine things at this show (check out our preview here for more). Electro-harpist Active Child opens.
Mary J. Blige at Terminal 5
Soul titan (and Bronx girl, lest we forget) Mary J. Blige has shifted more than  50 million albums since Puffy dubbed her "Queen of Ghetto Love" back in '92. Expect to hear from brand-new album My Life II tonight, as well as a healthy dose of MJB classics.
Chick Corea and Herbie Hancock at Blue Note
Of course the tables are sold out: The reunion of these uniquely simpatico piano partners, who have practically everything in common, is a highlight of the monthlong Corea extravaganza.
Allen Toussaint: A Southern Night at Joe's Pub
A linchpin of the golden age of New Orleans R&B, Allen Toussaint ends his run of shows at Joe's with selections from his classic 1975 album, Southern Nights, as well as other old faves.
Thursday
Jadakiss and Lloyd Banks + Juelz Santana at Best Buy Theater
Think of this show as a survey of the past decade from the harder edges of hip-hop—from the old guard (Jadakiss, G-Unit's Lloyd Banks and Dipset's Juelz Santana) to tomorrow's stars (the buzzing French Montana and Meek Mill).
Bucky Pizzarelli/Ken Peplowksi Quintet at Dizzy's Club Coca-Cola
Swing-guitar legend Bucky Pizzarelli is joined by clarinetist Ken Peplowski and an ace rhythm section for a Thanksgivinh session titled "American Anthems."
Karizma + Oliver Duret + J. Perry and Izolan at City Winery
Think you can dance after today's food overload? Give it a shot at the Winery, with a night of Haitian music from some of the country's best: Karizma fuses neoreggae with sing-toasting, Oliver Duret shows off his smooth tenor, and J.Perry and Izolan go full-on pop.
Friday
Trey Songz at Hammerstein Ballroom
The hot young R&B singer with the golden throat and an alluring aversion to shirts hits town, paying respect to such '90s greats as Aaliyah and Ginuwine. Find out what Trey's got that Chris Brown hasn't (no inappropriate jokes, please) in our preview, here.
The Cure at the Beacon Theatre
If you've been waiting for an opportunity to bust out the waterproof mascara, here it is: Goth-rock legends the Cure play their first three albums (Three Imaginary Boys, Seventeen Seconds, Faith) in full, over three nights at the Beacon. What's more, a different lineup plays each album. Douse yourself in patchouli and read more here.
Puscifer at BAM Howard Gilman Opera House
Look past the jokey veneer of Puscifer, Tool frontman Maynard James Keenan's solo concern, and you'll find a surprisingly sturdy art-pop outfit. Tonight the group plays a fancy BAM show.
Jeffrey Lewis and Diane Cluck at Mercury Lounge
TONY hearts Jeffrey Lewis (he even drew us our very own comic strip)—and so do Ben Gibbard and Jarvis Cocker. Tonight the sometime antifolkie celebrates a funny, poignant new album, A Turn in the Dream Songs, with fine support from influential singer Diane Cluck.
The Musical Box at Tribeca Performing Arts Center
Genesis fans will flock to Tribeca tonight: The Musical Box is no regular ol' tribute, but an accomplished outfit that re-creates Genesis's quirky musical epics with the fidelity of a repertory theater. Over two nights, the band restages classic album The Lamb Lies Down on Broadway with props on loan from Genesis. Real Genesis!
Saturday
Holy Ghost! + Jessica 6 at Music Hall of Williamsburg
Now that you've spent two entire days on the sofa, it's time to get out and dance ("Dance, I say!"). Underground disco trailblazers Holy Ghost! provide the beats, along with Jessica 6 plus local party-starters Midnight Magic and Eli Escobar.
Big Freedia at Public Assembly
If you wanna go harder still, go down the street to Public Assembly and check out Big Freedia, NOLA's biggest "sissy bounce" star. Strangers to the phenomenon would be well advised to watch this.
Nellie McKay at Hiro Ballroom
Fearless singer-songwriter Nellie McKay presents a highly theatrical and completely bonkers new set, which refracts a 1958 death-row film drama through songs by folks ranging from Irving Berlin to Jimi Hendrix. Because, why not?
Stabbing Eastward + People Get Ready at Glasslands Gallery
TV on the Radio frontman Tunde Adebimpe teams up with experimental drum whiz Ryan Sawyer for some free-form music-making. Support comes from artsy, delightful dance outfit People Get Ready, fronted by Steven Reker (guitarist with David Byrne and choreographer to Miranda July, no less).
Bernie Worrell Orchestra with Jimmy Destri at Joe's Pub
Blondie keyboard hero Jimmy Destri joins former P-Funker and synth-bass guru Bernie Worrell at Joe's Pub for some high-end mayhem.
Sunday
Frank Ocean at Bowery Ballroom
Tonight is 24-year-old singer-songwriter/Jay-Z and Kanye collaborator Frank Ocean's (rescheduled) NYC headlining debut. Tickets for the canceled November 6 show will be honored, but for everyone else, this one's sold out. Try Craigslist or other various gestures of despair.
Kenny "Babyface" Edmonds at B.B. King Blues Club
Panty-dropping R&B legend Babyface has written or produced songs for everyone from Lil Wayne to Phil Collins. He performs his own less prominent, but still enticing, solo work tonight.
Dan Hicks and the Hot Licks at City Winery
Bay Area character Dan Hicks had a pretty good thing going by the mid-'70s. With his Hot Licks, he'd appeared on TV shows and the cover of Rolling Stone twice. Tonight, expect to hear from his recent, rather good Crazy for Christmas album.
Gerald Clayton Trio at the Village Vanguard
Coming from the family of bassist John Clayton and his saxy uncle Jeff Clayton, it's no surprise that pianist Gerald Clayton can sound like an older stylist; still, he's no throwback. Catch the final night of his Vanguard run tonight.
Maria Schneider Orchestra at the Jazz Standard
A Grammy win and other accolades should have this polished ensemble in fine fettle, and there's no time like now to catch the last night of Schneider's Jazz Standard run.