The weekend's must-see concerts
By TONY Music Fri Aug 12 2011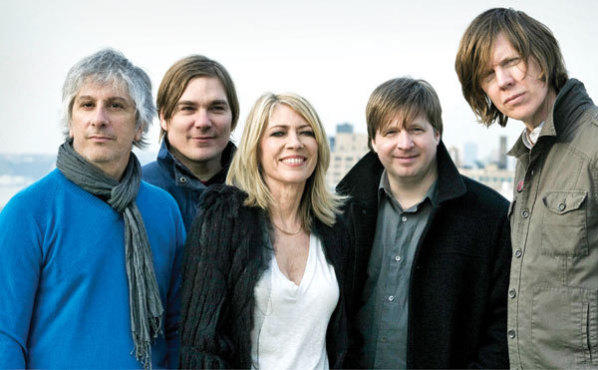 Sonic Youth Photograph: Michael Schmelling
Friday
Sonic Youth + Wild Flag at the Williamsburg Waterfront
Sonic Youth, lords of downtown avant-rock, honor the Williamsburg Waterfront with their feedback. Opening is fellow indie stalwart Wild Flag.
Beres Hammond at Hammerstein Ballroom
Arguably Jamaica's most beloved living crooner, Hammond brings his bourbon-on-the-rocks vocal style to Manhattan. Read our preview here.
Six Organs of Admittance at Mercury Lounge
Six Organs of Admittance guitarist Ben Chasny crafts mind-expanding acoustic folk in the John Fahey vein. You can also check them out at Littlefield on Saturday.
Callers + Colin Stetson at 92Y Tribeca
There's no mistaking the Deep South provenance of Callers' sound: rich, peaty and with plenty of open space even in its up-tempo numbers. Avant-sax crossover phenom Colin Stetson opens.
Vast Aire of Cannibal Ox at Southpaw
The gritty, mind-warping rap duo Cannibal Ox hasn't been able to put much out recently, but MC Vast Aire's latest release rekindles some of the old vibes.
Saturday
Warm Up at MoMA PS1
PS1's Warm Up presents another fantastically hip bill, featuring veteran shape-shifting sound-collagists Black Dice, creepy beatscapers oOoOO and lush, syrupy instrumental-hip-hop sensation Clams Casino (previewed here).
Controlled Bleeding at the Acheron
The nature of Controlled Bleeding's music has been as much of a grab bag as its format, from old-school industrial to in-the-red noise; learn the ropes here.
Bassnectar's Bass Island at Governors Island
Massive bass, Burning Man--worthy breaks and a vaguely aggro-hippieish vibe—that's what Lorin "Bassnectar" Ashton and his various collaborators are all about. This action-packed outing is well-stocked with indie stars like Lupe Fiasco and Prefuse 73.
Bob Dylan and His Band at Nikon at Jones Beach Theater
Dylan may be more or less unintelligible onstage these days, but his current shows prove that the potency of his songs transcends the verbal realm.
Roots of American Music Festival at Damrosch Park
The 28th annual Roots of American Music Festival celebrates the finest in homegrown tradition and talent. Saturday's bill ropes in country and bluegrass stalwarts for a plucky salute to storied label Sun Records.
Sunday
Roots of American Music at Damrosch Park
Tonight's deeply funky lineup promises to be both extravagant and exuberant. Headliner Steve Cropper mounts a live version of his star-studded recent LP, Dedicated. Take a peek at our preview here.
Machine Gun Kelly + Donnis at S.O.B.'s
21-year-old Cleveland Rapper Machine Gun Kelly, who's just been signed by Diddy to Bad Boy Records, shares a bill tonight with Atlanta backpacker MC Donnis.
Gospel Explosion at Central Park SummerStage
Bear witness to this sanctified showcase, featuring prolific songwriter and producer Donald Lawrence.
2011 American Beatbox Championships Grand Finals at Le Poisson Rouge
Watch 16 of the top beat-boxers in the country compete for the title of top dog.
Greg Osby Five at the Village Vanguard
Once a young maverick, alto saxophonist Greg Osby has eased into a more provocative relationship with the mainstream, updating its sounds and sources while always questioning its forms and functions.