We were there: Portlandia: The Tour
By Matthew Love Mon Jan 23 2012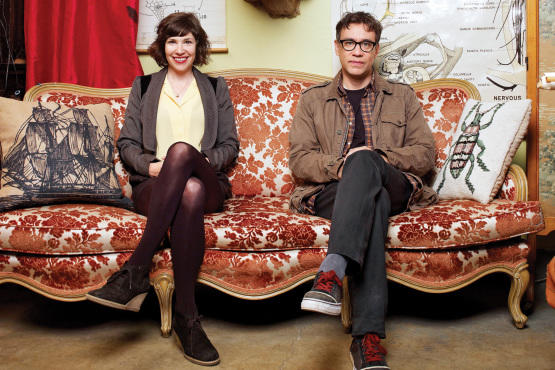 Carrie Brownstein and Fred Armisen Photograph: Chris Hornbecker
The duo behind IFC sketch show Portlandia—Fred Armisen and Carrie Brownstein—told TONY their tour would be like everyone hanging around in a living room together. They weren't kidding. Here's proof from the Bowery Ballroom show on January 21:
Videos were played. In addition to playing a sketch from the new season featuring a chipper, wackadoo Kristen Wiig, they showed another version of their "Dream of the '90s" sketch which likened Portland's culture to the 1890s rather than the 1990s. Between the beards, the homebrewing, and the visions of people chipping their ice off of huge blocks, it also felt strangely accurate.
Friends stopped by. Kyle MacLachlan, who appears on the show as the mayor of Portland (who also happens to be the bassist in a reggae band), apparently had a gig next door and showed up for a chat. Saint Vincent also dropped in to herald the dream of the 1990s with a cover of Pearl Jam's "Black." (It was airy and lovely, even as the reluctant crowd was coaxed into singing the flush of falsetto "do do do do do do do"s at the end.) And after playing a couple of acoustic numbers by himself, the Stranglers' Hugh Cornwell led a lively version of "Hanging Around" for the show's finale.
Photo albums were hauled out. While showing the crowd some embarrassing pictures from their respective pasts, Armisen lit up trying to explain why a photo of the excited young Brownstein on a swing encapsulated what he saw when he thought of her. (He ended up holding a guitar under the picture to illustrate how it reminded him of Brownstein onstage.) Later, as Brownstein recalled a poster on her wall featuring flamboyant '80s band Wham! in a piggyback pose, she remembered herself looking at it and thinking, "I could date either one of them."
Dreams were shared. If he were an animal, Armisen would be a shark "because they're constantly in motion." For her part, Browstein would be a giraffe. Because of their odd grace or their long necks? She indicated two spots on her head saying, "I like things with nubs."
There was lots of talk about who likes who and in what way. When someone shouted "Are you two an item?" during a Q&A with the audience, Armisen shot back, "What do you think?" Beyond beaming at one another back and forth across the stage, the most telling exchange about their relationship was contained in a joke about purported text messages they sent one another. In the bit, Armisen's texts were effusive ("Your birth was not a birth at all but the death of all others"), while Brownstein's were more formal (their salutations at one point included the phrase "Dear sir or madam"). For all the gushing affection apparent between them, they're still professionals with a show to do.