Where to go sledding, and what to do after
By Tory Hoen Mon Nov 1 2010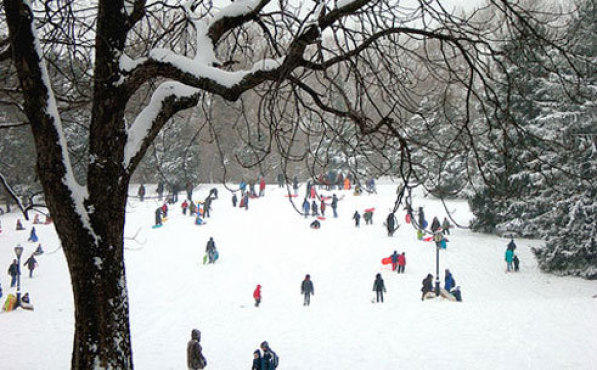 With the wind beginning to whip, sledding season will soon be officially upon us. As in past years, several city parks will offer free sleds and hot chocolate on particularly snowy days. Here's your five-borough guide to NYC slopes, and where to grab a drink or snack afterward.

MANHATTAN
Where to sled: Pilgrim Hill, Central Park
The grande dame of NYC sledding institutions—and rightly so, with its perfect steepness and gentle denouement (that's sledspeak for a smooth finish). This spot gets crowded, so prepare to slalom around wayward toddlers and other human obstacles. Enter at 72nd St and Fifth Ave
Aprs-sled stop: Friendly Euro wine bar Via Quadronno (25 E 73rd St at Madison Ave; 212-650-9880, viaquadronno.com)
Where to sled: Cedar Hill, Central Park
Thrill-seekers need not apply: A less-crowded alternative to Pilgrim Hill, Cedar makes a good starter slide for beginners (ahem, wusses). Fifth Ave between 76th and 79th Sts
Aprs-sled stop: Comfy old-school diner Nectar Coffee Shop (1022 Madison Ave between 78th and 79th Sts, 212-535-4115)
Where to sled: Riverside Park
There are some gentler slopes between 92nd and 103rd Streets, but the hard-core head to Hippo Playground, where you can catch a glimpse of the Hudson as you dodge trees on your way out—er, down. Hay bales at the bottom prevent impalement on the fence beyond. 91st St at Riverside Dr
Aprs-sled stop: Belgian beer joint B Caf West (566 Amsterdam Ave between 87th and 88th Sts; 212-873-0003, bcafe.com)
Where to sled: Morningside Park
This is where the Columbia crew kicks it, using dining hall trays, cardboard boxes and snowboards. Come nightfall, there's drunken sledding beneath the lights. Stupid? Yes. Fun? Certainly. Morningside Dr at 115th St
Aprs-sled stop: Cozy literary caf Society Coffee & Juice (2104 Frederick Douglass Blvd [Eighth Ave] at 114th St; 212-222-3323, societycoffee.com)
Where to sled: 91st Street
For a quick fix, slip down 91st Street's pedestrian-only zone. This is urban sledding in its purest form; just watch out for unsuspecting kids/dogs/elders. 91st St between Second and Third Aves
Aprs-sled stop: Bustling Alsatian joint Caf d'Alsace (1695 Second Ave at 88th St, 212-722-5133)
BROOKLYN
Where to sled: Prospect Park
Yuppies and their offspring start at the gentle knoll near 9th Street for a little downhill action before heading toward the rolling stretch of the Nethermead to make snow angels. Enter at 9th St and Prospect Park West
Aprs-sled stop: Rustic neighborhood pub Park Slope Ale House (356 Sixth Ave at 5th St, Park Slope; 718-788-1756)
Where to sled: Fort Greene Park
Anything goes at this mellow Brooklyn spot. Grab a giant garbage bag and join the mix of families and hipsters on one of the park's four hills, which range from beginner to painful. Or—if you're cool with bumps and possibly broken bones—tackle the park's treacherous staircase (you wouldn't be the first). DeKalb Ave at Washington Park
Aprs-sled stop: Sleek beer garden (710 Fulton St at S Oxford St; 347-841-4495, derschwarzekoelner.com)
QUEENS
Where to sled: Forest Park
If you don't find it fun unless it's illegal and perilous...bingo. This golf course is home to three hills, where sledding aficionados come to earn their stripes. Once you've conquered the icy "Suicide Hill" (off-limits by order of the Parks Department) you can consider yourself a pro. Forest Park Dr and 79th St
Aprs-sled stop: Queens' alleged oldest bar, Neir's Tavern & Caf (87-48 78th St at 88th Ave, Woodhaven; 718-296-0600, neirstavern.com)
Where to sled: Crocheron Park
Bayside natives swear by this open space, which offers both a moderate pitch and a steeper one for daredevils. If you're into solitary sledding, come here to avoid the masses that dominate larger parks. 35th Ave between Cross Island Pkwy and 215th St
Aprs-sled stop: Smiley neighborhood stop Maggie May's (21422 41st Ave at 214th Pl, 718-224-9898)
BRONX
Where to sled: Ewen Park
Hey, lazybones, we all want to sail downward without having to hike back up a slippery slope. At this steep free fall, you're in luck: Extreme sledders just take the stairs alongside the snowy incline. Riverdale Ave at 231st St
Aprs-sled stop: Cute local favorite Corner Cafe & Bakery (3552 Johnson Ave at 236th St, 718-601-2861)
Where to sled: Crotona Park
As the Bronx's most popular sledding destination (park staff have been known to show up bearing hot chocolate for sledders), the historic park's minipeaks fill up with everyone from babies to vagabonds—prepare to share. Fulton Ave between Crotona Park North and 172nd St
Aprs-sled stop: Family-friendly Latin joint El Nuevo Bohio (1155 Webster Ave at 167th St, 718-293-2954)
Where to sled: Henry Hudson Memorial Park
When Riverdale schools let out, the cool kids head here to get their adrenaline rush on the snowy drops that overlook the Hudson. Better that than smoking grass, right? Kappock St near Palisade Ave
Aprs-sled stop: Authentic Irish bar An Beal Bocht Cafe (445 W 238th St near Greystone Ave; 718-884-7127, anbealbochtcafe.com)
STATEN ISLAND
Where to sled: Clove Lakes Park
The steep terrain attracts a diverse mix of sledders who take the sport seriously—and park rangers who regularly organize sledding races on the hill and oversee kids on school snow days. Martling Ave at Slosson Ave
Aprs-sled stop: Laid-back neighborhood bar The Beer Garden (1883 Victory Blvd at Mountainview Ave; 718-876-8900, thebeergardensi.com)
Users say
Sledding in central park is awesome! Check out this video of people sledding in new York central park http://vimeo.com/19441581
is there anywhere you can sled that HAS sleds us can use / rent?????