Beach eats: best seaside food in New York City
Orchard Beach to Coney Island, Rockaway to Brighton—TONY's reeled in top-notch beach eats at NYC's shorelines.
By Christina Izzo and Patty Lee Tue Jun 25 2013
Photograph: Virginia Rollison
In the summer, there's no better way to soak up rays than with some al fresco eats on the sand. We scoured the shorelines of New York City for the best seaside bites. Whether you're hitting up Rockaway Beach for Baja-style tacos and grass-fed burgers or Coney Island for iconic hot dogs and pizza, our beach eats guide has you covered.
Orchard Beach, Bronx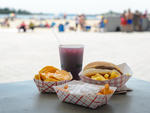 Havana Café
Once called the Riviera of New York City, Orchard Beach boasts three concession stands helmed by local Cuban restaurant Havana Café. Bandanna-clad teens serve standard boardwalk bites like burgers, nachos and funnel cake to tanned Bronxites. At the southernmost outpost, you'll find a selection of fried seafood—including golden-brown coconut shrimp on a bed of french fries ($12). Cool off with a draft beer ($6) or sangria on tap ($8), or better yet, with an Italian ice ($2) from one of the carts rolling up and down the cobblestone esplanade. 718-518-1800, havanacafe.com.—PL
---
Rockaway Beach, Queens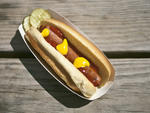 Rippers
The Rockaway boardwalk is the new Bedford Avenue, if Rippers is anything to go by. Launched in 2011 by the crews behind Roberta's and the Meat Hook, this rowdy, neon-hued snack shack attracts tattooed folks fresh off the A train. Huddle under galvanized-steel shade structures for juicy, grass-fed burgers on Martin's potato buns ($7.50), snappy, all-beef Meat Hook franks with zippy kraut ($4) and cold pineapple-coconut smoothies ($6). The patty-joint fare demands a bit of a wait—potatoes are cut right before frying—and lines regularly wind down to the sand, but a kitschy '80s soundtrack (the Go-Go's, the Buggles) and a communal beer funnel keep spirits sunny. 718-634-3034, 86badvibes.com.—CI
Boardwalk at Beach 86th St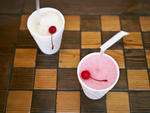 Connolly's
With a name like Connolly's, you'd expect the booze of choice at the dark wood bar to be Guinness. But the draw of this by-the-surf Irish pub is, of all things, a piña colada. Tucked beneath an old Victorian beach house, the beloved basement tavern lures off-duty lifeguards, neighborhood firemen and fresh-off-the-swell surfers with its coladas and vodka-spiked frozen pink lemonades (each $6). The potent icy drinks come discreetly in Styrofoam cups—easy to sneak onto the beach—with a boozy floater for a buck extra, but the friendly bartenders are known to pour the added shots with a smile and an "on the house." 718-474-2374.—Christina Izzo
155 Beach 95th St between Rockaway Beach Blvd and Boardwalk
Price band: 1/4
Critics choice
"Tacos!" someone screeches from a surfboard-filled Jeep as they pass this plywood Cal-Mex hut, opened a block from Rockaway Beach in 2008. And the fervor is well deserved—having withstood four feet of Sandy flooding, the streetside shanty is back in action, peddling its cultish tacos to scruffy surfers, local families and fixed-gear bikers. The must-order is chef-owner Andrew Field's stellar fish taco ($3.50 each): flaky, beer-battered tilapia topped with tangy cabbage slaw, spicy crema, homegrown cilantro and crisp radishes in a quick-griddled corn tortilla. It tastes more Southern Cali than southern Queens, especially with a rich dollop of guacamole ($1 extra). Other bites include a chili-and-cotija-rubbed elote ($4) and cucumber-mango salad ($4), with fresh-pressed watermelon juice to drink ($4). rockawaytaco.com.—CI
95-19 Rockaway Beach Blvd, (at Beach 96th St)
More info
The brainchild of local surfer Rashida Jackson and artist Patrick Flibotte, the 28-seat shoreside drinkery showcases seasonal vino from hang-ten regions around the world: chardonnay from Cali's Sonoma Coast, sauvignon blanc from New Zealand's Sandy Cove and cava from Catalonia, Spain. Along with the 13-bottle wine list, eight beers are available at the oak-and-steel bar: Sixpoint Crisp Lager and Lagunitas IPA on draft, Duval and Allagash White in bottles. Soak up the suds with tapas including smoked-paprika–rosemary chips, marinated olives and BBQ pulled-pork sandwiches, piled on silver-dollar brioche from Brooklyn Bread. Out back is a 1,200-square-foot garden fitted with beach rocks and wooden picnic tables. Settle under the tin canopy for live jazz on Thursday nights or black-and-white flicks on Saturdays. (718-945-9463)–CI
91-11 Rockaway Beach Blvd, (between Beach 91st and 92nd Sts), 11693
More info
---
Coney Island, Brooklyn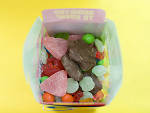 IT'SUGAR
This impossibly bright Willy Wonka wonderland, opened a block from the boardwalk in May, looks like Katy Perry exploded in the middle of Coney Island—a preteenage dream of sun-kissed kids hightailing across sparkly garnet floors toward giant Tootsie Pops. Along with oversize novelty sweets, candy like apple sour belts, caramel creams and saltwater taffy is dispensed from shiny bulk bins, available togo in colorful Chinese takeout containers ($14.99). Kiosks are packed with retro candies like Mallo Cups, Cow Tales and Bit-O-Honeys, the kind of treats that would have sated sweets lovers during the seaside 'hood's early-1900s heyday. 718-265-3021, itsugar.com.—CI
1232 Surf Ave at Stillwell Ave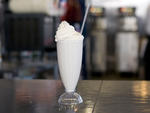 Tom's Coney Island
Get a bite of Brooklyn nostalgia at this all-American boardwalk diner. In the old Cha Cha's space, Jimmy Kokotas debuted this offshoot of his 75-year-old Prospect Heights breakfast standby in September 2012, one month before Hurricane Sandy hit. Luckily for Brooklyn's egg-cream-loving beachgoers, Tom's emerged miraculously unscathed, flipping pancakes and burgers less than a week after the storm. The mom-and-pop restaurant—outfitted with photos of vintage Coney Island and cheery red barstools—does the classics well: thick-battered onion rings have great crunch ($5); hand-spun shakes (vanilla, chocolate, strawberry and cookies-and-cream; $6) are large and luscious; and the brisket wrap ($13) has all the sauciness of a double-dip, but in a portable, beach-ready package. 718-942-4200.—CI
1229 Boardwalk at Stillwell Ave
Price band: 1/4
Critics choice
The famous frank joint's reopening in late May wasn't just the unofficial start to summer—it was the comeback of the year. The Surf-and-Stillwell flagship—opened in 1916—was under six feet of floodwater just a few months earlier, and also fell victim to a fire this past May, but the warhorse trudged on, firing up the grills for sizzling hot dogs ($3.95) just in time for Memorial Day. The original subway tiles and iconic signage are back, as well as menu staples like crinkle-cut fries ($3.15) and thick-battered corn dogs ($3.95), but there's one shiny "new" addition: a curbside clam bar, a revival of the restaurant's raw bar from the '50s. East Coast oysters ($13.50/dozen) and littlenecks ($13.50/dozen) are shucked per order over a mountain of ice, served with chowder crackers, lemon wedges, sinus-clearing horseradish and cocktail sauce. 718-333-2202, nathansfamous.com.—CI
1310 Surf Ave, (at Stillwell Ave), 11224
More info
Price band: 2/4
Critics choice
For many Brooklyn pizzerias, the red-sauce slice is the standard, from the Sicilian squares at Di Fara to the Neapolitan rounds at Patsy's. But at Totonno's—a Coney Island beacon since Anthony Pero opened its doors in 1924—the pizza de résistance is the top-notch white pie ($19.50). Sand-dusted pizza lovers make the trek from the beach for the off-menu garlicky round: It's covered in gleaming white house-made mozzarella and pecorino romano, leopard-spotted with crispy char marks. It's the best thing on the menu, and given delicious alternatives, like the purist Margherita pie ($19.50), that's saying something. Decor is no-nonsense—Styrofoam plates and Dixie cups—as is its notoriously salty owner, Pero's granddaughter Louise "Cookie" Ciminieri, whose formidability has kept this seashore haunt a pizza force to be reckoned with all these years. 718-372-8606, totonnos.com.—CI

1524 Neptune Ave, (between 15th and 16th Sts), 11224-27
More info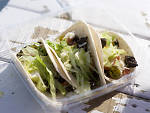 Place to Beach
After years spent revamping Coney Island's Luna Park, Central Amusement International moved its improvements to the boardwalk, opening this lighthouse-inspired Tex-Mex cantina in March. The Chipotle-style counter setup supplies soft tacos filled with fired-braised chicken ($7.50) and marinated pulled pork ($7.95); crunchy tortilla chips with thick guacamole ($3.95); and $5 South of the Border brews (Negra Modelo, Pacifico). Kick back at a patio picnic table with a fresh margarita—on the rocks ($9) or frozen ($8)—and a trio of grilled skirt steak tacos ($7.95): tender, seared beef topped with bright cilantro-lime rice, black bean-corn relish and spicy pepper jack. 718-373-5862 x136, placetobeach.com.—CI
1302 Boardwalk between Kensington Walk and W 21st St
Boston has Cheers; Coney Island has Ruby's. This raffish open-air dive has been a neighborhood treasure since the late Ruby Jacobs opened it in 1976 (Jacobs's daughters Cindy and Melody took over in 2000), making it the oldest bar and grill on the boardwalk. When it's not serving as headquarters for zany traditions like the Mermaid Parade and the Polar Bear Club, the seaside watering hole offers beachgoers a campy reprieve, with Harpo Marx figurines, pictures of bikini babes, plastic cups of beer ($6–8), a Sinatra-heavy jukebox and unabashedly greasy eats. Summer-job teens dispatch all things fried: crunchy, golden corn dogs ($3.75), generously breaded jumbo shrimp ($3) and waffle fries ($4). Just wait 30 minutes before you take a dip in the Atlantic. 718-975-7829, rubysbar.com.—CI
1213 Boardwalk between Stillwell Ave and W 12th St
More info
The famed Dumbo pie-slinger joined the Coney Island pizzascape in 2012, not far from Neptune Avenue legend Totonno's. But what it lacks in decades-old neighborhood cred, it makes up for in prime Luna Park location, one block from the sand. Photos of Coney Island past and present charm locals, as do the coal-fired pies. In between a ride on the Wonder Wheel and a bronzing session on the beach, grab a table in the bare-bones spot for thin-crust, blister-edged rounds covered with creamy, fresh-pulled mozzarella and sweet tomato sauce ($14). Toppings like Italian sausage, cured black olives and salty capers are available for two bucks each, but with a classic slice this good, you don't need them. 718-676-2630, brooklyngrimaldis.com.—CI
1215 Surf Ave, (between Stillwell Ave and W 12th St)
More info
---
Brighton Beach, Brooklyn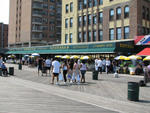 Tatiana Grill
You'll get a "Zdravstvujte" before a "Hello" at this serene Russian waterfront spot, a ten-minute boardwalk stroll from bustling Coney Island. The casual, beach-friendly sibling to nearby Tatiana Restaurant has pages upon pages of Eastern European staples, like cold green borscht and puffy pelmeni dumplings. For a refreshing choice after a day at the beach, opt for the beet salad ($13)—al dente cubes of root vegetable with ruffles of arugula, crunchy walnut halves and creamy goat cheese in a light vinaigrette. Sporting ship wheels and novelty anchors, the restaurant unsurprisingly features plenty of seafood—delicate slips of rosy, raw salmon ($12), simply topped with a handful of salty kalamata olives, are a highlight. 718-646-7630, tatianagrill.com.—CI
3145 Brighton 4th St between Brightwater Ct and E Boardwalk
---
Governors Island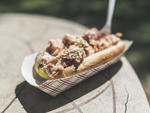 Little Eva's
Bouncing back from Hurricane Sandy, Red Hook spot Kevin's brings its seafoodcentric menu across the East River. From a wood-paneled tiki shack, husband-and-wife owners Kevin Moore and Caroline Parker sell craft brews (Sixpoint, Brooklyn Brewery) and locally sourced fare, including mayo-slicked Montauk lobster—tossed with chopped celery and shallots—packed into fluffy potato rolls ($16). Other alfresco bites include the snappy Eva Dog—a grilled beef frank you can get plain ($4) or topped with Moore's cabbage, carrot and bacon slaw ($5)—and a refreshing watermelon-and-feta salad ($6). mooreparties.com.—PL
King Avenue Food Court
Sat, Sun 10am–6pm
Leave the cooler at home. From that team that runs Beekman Beer Garden, this waterfront club at Governors Island has all the chow sun-seeking New Yorkers crave: juicy cheeseburgers topped with house-made pickles ($7); crispy chicken quesadillas oozing with melted cheddar ($7); and charred corn on the cob smothered in creamy chipotle aioli ($5). Tilt back American beers (Blue Moon, Third Shift) at picnic tables as Top 40 hits blare from speakers—you might not be able to jump into the ocean, but there's no better view of the lower-Manhattan skyline. 212-896-4600, governorsbeachclub.com.—PL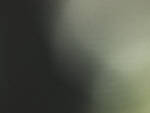 Perfect Picnic
Inspired by a trip to the Amalfi Coast, Wendy Weston launched her picnic outfit in 2011, packing top-quality sandwich fixings into reusable totes. On Governors Island, Weston offers two ready-to-go picnic baskets ($14–$32) and individual baguettinis, crusty Pain D'Avignon loaves loaded with artisanal meats and cheeses ($6). Choose from a rotating menu of fillings, including wisps of serrano ham topped with crisp chives, and peppery duck—smoked by Westchester's Larchmont Charcuterie—slathered with sweet cherry jam. 212-228-2884, perfectpicnicnyc.com.—PL
King Avenue Food Court
Sat, Sun 10am–6pm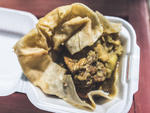 Veronica's Kitchen
When Trinidad native Veronica Julien lost her job at the Department of Buildings, she opened up this beloved FiDi food cart, serving West Indian specialties to Wall Street suits on lunch break. On summer weekends, find the affable Julien parked on Governors Island, heaping fall-off-the-bone jerk chicken and Trini roti (a stretchy flatbread) filled with curried chicken or goat into Styrofoam clamshells ($7 each). Wash down the spicy dishes with a homemade sorrel (hibiscus) drink ($3).—PL
King Avenue Food Court
Sat, Sun 10am–6pm
---
You might also like
---
Food & Drink events calendar
Time Out videos
---
---
@TimeOutNewYork
Subscribe to Time Out New York on Spotify for playlists and recommendations from our Music team.


Check out New York's best restaurants, hottest street style, cool apartments and more.