Best coffeeshops for entertainment
From comedy shows and book clubs to musical performances and trivia nights, these spots offer more than just a cup of joe.
By Sarah Bruning Tue Dec 7 2010
The Lovin' Cup
For a mellow night out, gather your pals in a rough-hewn wooden booth and applaud the indie musicians who play regularly in the main room. When it's time to amp things up, head to the back, through a door marked private and let loose in Cameo Gallery, an industrial exhibition-performance space where avant-garde rules the stage. No matter where you drink it, the coffee ($2) is served black, but you can gussy it up with a shot of your favorite liquor. 93 North 6th St between Berry St and Wythe Ave, Williamsburg, Brooklyn (718-302-1180, myspace.com/thelovincupcafe). Schedule and cover charges vary.

Postmark Cafe
Launched in 2006 by husband-and-wife team Luke Thayer and Abbi Crutchfield, the Living Room Show is a stand-up and sketch series featuring underground comics, whose pedigrees range from underground status to appearances on Letterman. Sidle up to the polished wooden bar to order a smooth vanilla latte (small $2.75, medium $3.25, large $3.75) from the menu inscribed on glass panels. 326 6th St at Fifth Ave, Park Slope, Brooklyn (718-768-2613). Comedy shows every second and fourth Friday of the month at 8pm; free.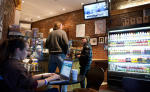 The Pulp and the Bean
With just two black caf tables, four chairs and a three-person bench, this blink-and-you'll-miss-it spot may not seem the most apt place to host TV-viewing parties and jazz performances. But the venue's petite interior manages to fit about a dozen people on chilly Sunday nights for screenings of Dexter and Walking Dead (Sun 9pm; free) and classic movies (Mon--Sat 7pm; free). While you're waiting for Michael C. Hall to claim his next victim, try a seasonal Gingermint latte ($3.25). Using a nutty custom Italian roast from Park Slope's Gillies at the base, the drink layers 1883 de Philibert Routin frosted mint syrup, gingerbread syrup, steamed milk and a hush-hush blend of spices. If you're truly hard-core about your caffeine, sample owner Tony Fisher's new ten-shot Dieci ($8), also made from Gillies' beans. He calls the special "20 ounces of just thunder." 809 Franklin Ave between Eastern Pkwy and Lincoln Pl, Crown Heights, Brooklyn (347-425-8642, twitter.com/pulpandbean).

Think Coffee
Before you dismiss the Mercer Street branch of this minichain as a haven for bleary-eyed NYU undergrads, exercise your own brain at Trivia Tuesday (Tue 8pm; free). On quiz nights, two-person teams attempt to prove their relative intellectual superiority. Get your brain primed for action with a decadent Spanish latte ($4.49), which pairs steamed whole milk and velvety sweetened condensed milk with carefully prepared proprietary Think espresso, a fair-trade blend derived from the Puerto Rico Trading Company. If you prefer a more studied approach to your beans, stop by the Friday afternoon cupping sessions (Fri 1pm; free), where the expertly trained baristas introduce coffee nerds to a new single-origin variety from Indonesia, Kenya and other sources each week. 248 Mercer St between 3rd and 4th Sts (212-228-6226, thinkcoffeenyc.com)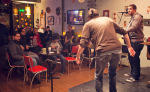 Waltz-Astoria
Owner Song Gonzalez cultivates a come-as-you-are philosophy at her cheery caf's twice-weekly open-mike nights. Up-and-comers register for two-song or ten-minute spots, during which the stage is theirs to play an original composition, drop a rap verse or tell a bawdy joke, while audience members nurse cinnamon-dusted cappuccinos from oversize ceramic mugs ($4). 23-14 Ditmars Blvd between 23rd and 24th Sts, Astoria, Queens (718-956-8742, waltz-astoria.com). Tue, Wed 8:30pm; sign-up at 8pm; no cover, $10 food/drink minimum.