Burb-cation
Take it back to your summers in the suburbs.
By Sam LaCroix Tue Jun 14 2011
---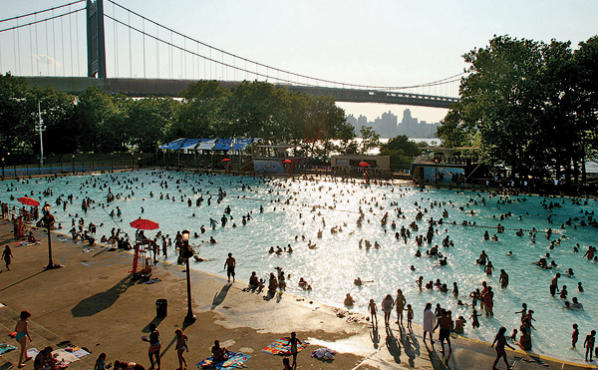 Astoria Pool
Camping at Floyd Bennett Field
Get a taste of noncity life while pitching a tent in this newly expanded park. On July 4, the decommissioned airfield will unveil 47 campsites for your marshmallow-roasting, stargazing pleasure. Bring supplies and a few friends (six people are allowed per site), and fine-tune your bird-watching skills while scanning the grasslands for kestrels. 50 Aviation Rd at Flatbush Ave, Marine Park, Brooklyn (718-338-3799, nps.gov/gate/index.htm). Open daily; each night $20. Reservations and permits required.
RECOMMENDED: Our most recent Staycation Guide
Ice cream and a tan
Unfurl a cushy towel and snag a prime spot on one of Brooklyn Bridge Park's grassy hills to spend a sun-drenched afternoon banishing your winter pallor. Later, enjoy an emergency cooldown at the Brooklyn Ice Cream Factory. Owner Mark Thompson's specialty is the two-scoop vanilla ice cream cone ($6), which he calls "the backbone of any self-respecting ice cream shop." If you're hankering for a more decadent treat, ask for a classic banana split ($8.50). Brooklyn Bridge Park, Pier 6, Furman St at Atlantic Ave, Dumbo, Brooklyn (718-802-0603, brooklynbridgeparknyc.org) * Brooklyn Ice Cream Factory, Old Fulton St at Water St, Dumbo, Brooklyn (718-246-3963, brooklynicecreamfactory.com). Cash only.
A swim and a BBQ
Pretend you have your own backyard oasis at the Astoria Pool, with its striking Triborough Bridge views. When you need a break from splashing around, refuel with classic noshes, like grilled hot dogs and cheese fries, available at the snack bar's barbecue. But before you leave your apartment, familiarize yourself with the rules and dress code on the Parks Department's website so that you're not denied entry. Astoria Pool, 19th St at Astoria Dr, Astoria, Queens (718-626-8623, nycgovparks.org/parks/astoriapark). Free. Opens June 29.
You might also like
See more in Things to Do